Near midway through the season we take a look at some players that have been off to a hot start.  Leading their team to battle hard for a chance to go deep in the playoffs.  These players set the tone in their scoring in different ways, and are exciting to watch.
Let's take a look at some of the top scorers in class 5A!!
Timiya Guevara
Timiya Guevara 5'4" | PG Denver South | 2021 State CO (2021, 5'4″, Denver South)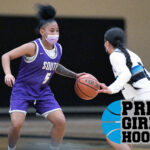 Guevara is a a shifty guard that is tough to stop with her ability to knock down shots, and get to the rim.  She is an electrifying player that plays with a lot of passion on both ends of the floor.  Guevara had 19 points in her debut, and so far scored a season high of 29 points against Thomas Jefferson last week.  She is averaging 19.9 points, 8.6 assist, 5.2 rebounds, and 5.4 steals per game to help her team go on a 8 game winning streak.
Mikenzie Jones
Mikenzie Jones 6'1" | C Vista PEAK | 2022 State CO (2022, 6'1″, Vista PEAK prep)
Jones second leader on the team in scoring behind Breanna Jefferson
Breanna Jefferson 5'4" | CG Vista PEAK | 2022 State CO who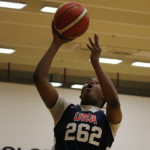 made part 1 of the article.  Jones is averaging 18.8 points per game on 34-of-79 (43 percent) from the field.  She also scored a career-high, and season-high in points with 31 on 15-of-18 (83 percent).  Jones a player that can play on both sides of the ball, and will do what it takes to help her team win.  Jones is also averaging a double-double this season snatching 10.0 rebounds per game.
Sydney Bevington
Sydney Bevington 6'0" | PG Ralston Valley | 2021 State CO (2021, 6'1″, Ralston Valley)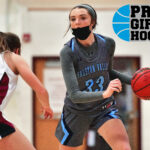 Bevington is a tough player to contain having great size, and length for her position.  She is shows that she can score from inside extending out to behind the arc despite not taking as many three pointers this year she last year.  Bevington is nearly averaging a double-double as a guard.  She is averaging 17.9 points, and 9.5 rebounds per game to help her team go 6-2 overall this year.
Payton Sterk Payton Sterk 5'10" | PG Doherty | 2022 State CO (2022, 5'10", Doherty)
Sterk is having a tremendous junior year leading the charge at Doherty.  The team only one lost this year so far against a tough Regis Jesuit team.  Sterk stepping up in ways to help her team go undeafted in conference.  She is averaging 17.1 points per game on 44-of-83 (53 percent) from the field.  Last season only averaging 8.5 points per game, she is showing that she can play among the best.
Alyssa Rodriguez-Trujillo
Alyssa Rodriguez-Trujillo 5'5" | CG Palme | 2023 State CO (2023, 5'4″, Palmer)
Rodriguez is leading her team in scoring with 17.3 points per game.  Standing at 5'4″ she also leads the team in rebounding averaging 6.0 per game.  As the team off to a rough start with a record of 2-2.  They are still looking to battle strong for the rest of the season with their leader Rodriguez-Trujillo leading the way.  A sophomore who is known to lift the team in scoring.