Recapping the Class of 2022 Late Signees By Michael Wholey 6/21/22 11:00 AM EST The class of 2022 has had a number of verbal commitments and signings in the last 3 months.  We take a look at some of the…
Recapping the Class of 2022 Late Signees
By Michael Wholey 6/21/22 11:00 AM EST
The class of 2022 has had a number of verbal commitments and signings in the last 3 months.  We take a look at some of the players that recently have made decisions on where they will attend college.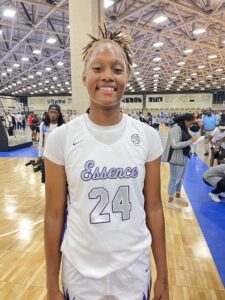 No decision was bigger than Janiah Barker, who originally signed with the University of Georgia.  With head coach Joni Crenshaw leaving Georgia for Texas A&M, Barker elected to follow Crenshaw and switch her decision from Georgia to Texas A&M.  Barker was a consensus top 5 player nationally amongst all national rankings and the # 1 ranked player in the Prep Hoops Florida Class of 2022 rankings.
Fatima Diakhate, Amiya Evans, Stefanie Ingram, and Savannah Henderson all hail from the state of Florida and all originally signed with the University of Central Florida.  With Head Coach Abe Henderson leaving UCF to become the head coach at the University of Georgia, all four players in the last 3 months have switched their decision and will now attend the University of Georgia.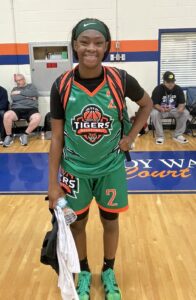 Michiyah Simmons and Zaria Blake are high school and travel team teammates playing for Blanche Ely and Team Knight.  Both Simmons and Blake entered the spring as two of the state's top unsigned players.  Well, that is no longer the case with both making decisions on where they will continue their academic and athletic careers with Simmons choosing South Alabama and Blake selecting Jacksonville. Both are talented and uber athletic players who will have opportunity to get playing time immediately at both schools.
Head Coach Nikki Jessee and Assistant Coach Brian Cruz have an active working hard to keep some of the sunshine state talent in the state of Florida.  Well mission accomplished with several of Florida's top players elected to stay in Florida and attend Warner University.  Xaimarra Garcia (Wildwood), Tatiana Ortiz (Timber Creek), Lanina Murillo (Meadowbrook Academy), Mary Holmes (Palm Bay), and Emani Theodule (American Heritage) will all suit it up this year for Warner!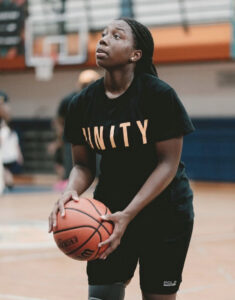 A number of in state players picked up late D1 offers with Bre Gustave (St. Thomas Aquinas) – USC Aiken, Marissa Brown (Chocktawtchee) – College of Charleston, Kayla Smith
Kayla Smith 5'9" | SF American Heritage (Plantation) | 2026 State FL (Winter Haven) – Prairie View A&M, Catalina Ion (IMG Academy) – Wright State, and Nylee Cortes (Central Pointe Academy) – College of Charleston all signing full scholarships to continue their athletic and academic careers.
As some made decisions to continue at the D1 level, others chose the D2 route.  Claire Erickson (Westminster Academy) – Rollins and Samiyah Briggs (Calvary Christian Academy) – Livingstone College have signed full scholarships to continue their careers and compete in the Sunshine State Conference and the CIAA.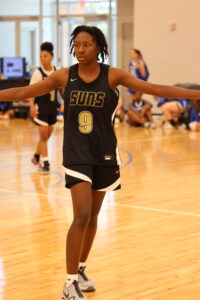 St. Thomas University is an NAIA school that competes in the Florida Sun Conference.  Head Coach Candace Walker and her staff have been hard at work and have signed three Florida players to suit it up next season for the Bobcats.  Stephanie Orozco (Coral Springs), Jessica Williams (Doral Academy), and Paige McDonald (Cocoa Beach) are all in state talent that have elected STU!
Speaking of St. Thomas, 1,000 miles+ north is St. Thomas Aquinas College in New York.   Point Guard Jojo Raposo will suit it up for STAC next year competing at the D2 level.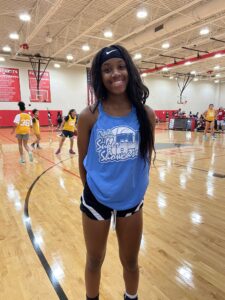 Florida Junior College basketball is some of the best in the country.  The in state JuCos have been hard at work, trying to keep some of the state's top talent in state.  Hillsborough CC has a number of talented players heading there way this fall.  Kiki Bean (Spruce Creek), Trinity Goldwire (Palm Beach Lakes), and Sanaa Thomas (Palm Beach Lakes) will all compete for Hillsborough.  Indian river fresh off one of their top season in school history signed a pair of players from Florida with Kailyn Peters (Waller HS) and Monique Joseph (King's Academy) both electing to compete at Indian River this upcoming season.  A trio of in state players Elizabeth Schnell (Calvary Christian), Savannah McAfee (Apopka), and Daija Lopez (SLAM! Miami) will suit it up for Palm Beach State. Jaela Davis (Brooks DeBartolo) was ranked as one of the class of 2022 top unsigned players.  She has made the decision to attend Northwest Florida State that is consistently ranked as one of the top 25 JuCos in the country.  While Shaniyah McCarthy (Wekiva) will play next season for in state junior college Daytona State.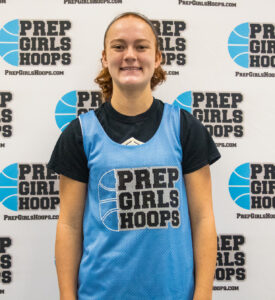 Etaria Gibbons (Northeast HS) was one of the players that was impacted by injuries therefore impacting her recruiting.  Gibbons will also continue her career at the junior college level, only she will head out of state to Texas and play for Grayson College.
Over the years Reilly Webb (Lakewood HS) has been one of my favorite players to watch.  Webb recently made the decision to attend Elmhurst University in Illinois to continue her academy and athletic careers while Ionna Garcia, fresh off a stellar season for Holy Trinity will suit it up for Converse College in Spartanburg, SC.
Michael Wholey is Prep Girls Hoops Florida Senior Scout and oversees the Florida rankings along with other contributing members and writers for @PGHFlorida.  You can email Michael Wholey at WholeyPrepHoops@gmail.com or DM him on Twitter or Instagram @WholeyPrepHoops.