The air was crisp on Sunday morning in the Twin Cities and so – surprisingly enough – were some of the 16 teams on the court at Hopkins High School. We say 'surprisingly' because it was the opening day of…
The air was crisp on Sunday morning in the Twin Cities and so – surprisingly enough – were some of the 16 teams on the court at Hopkins High School. We say 'surprisingly' because it was the opening day of the Breakdown Fall League at both Hopkins and Minnetonka, a point in the high school basketball season where expectations are low and things normally look a little sloppy as teams try to figure out who fits where and how. Hopkins looked good, of course. So did a talent-laden Maple Grove squad. One other team that seemed to be operating in near-season form was Providence Academy, the defending Class 2A state champions. That shouldn't be quite so surprising, I suppose, given the veteran nature of their lineup and the talent level of the roster. The Lions top our list today as we recap the Best of Week 1 at Fall League.
GAME OF THE DAY
It didn't take long for Providence Academy to heat up in their battle with Class 4A East Ridge as the two highly-experienced squads went at it in the first hour of the day. Elite point guard Maddyn Greenway
Maddyn Greenway 5'8" | PG Providence Academy | 2026 State MN knocked down a smooth three-pointer to get the proceedings under way and was as electric as always. 7th grader Ari Flies-Peterson was making an excellent early impression in her varsity debut. And senior forward Grace Counts
Grace Counts 6'1" | PF Providence | 2023 State MN (top photo) looked to be in mid-season form for the Lions, who won a whopping 29 games last winter. With the Raptors going deep into the bench in the first half, PA jumped out to a 12-point lead. When East Ridge went to its actual varsity rotation they came roaring back in the second half.
After firing blanks for most of the game, junior guard Sidney Klauer
Sidney Klauer 5'7" | CG East Ridge | 2024 State MN hit a big three for East Ridge with 1:21 remaining to put the Raptors ahead 46-45. Junior Brooke Hohenecker Brooke Hohenecker 5'5" | SG Providence | 2024 State MN answered with a triple of her own 20 seconds later as PA retook the lead. Then Counts made a pair of free throws at the 40-second mark to stretch the margin to four before East Ridge sophomore Elle Wildman
Elle Wildman 5'8" | PG East Ridge | 2025 State MN , who spent her summer playing soccer not basketball, nailed her fourth consecutive bomb from beyond the arc at the 28-second mark to reduce the margin to a single point. Seconds later Greenway cashed in once at the free throw line before Counts came up with a huge shot block to end it. Final score: Providence Academy 51 East Ridge 49. Heck of a game for the first week of Fall League!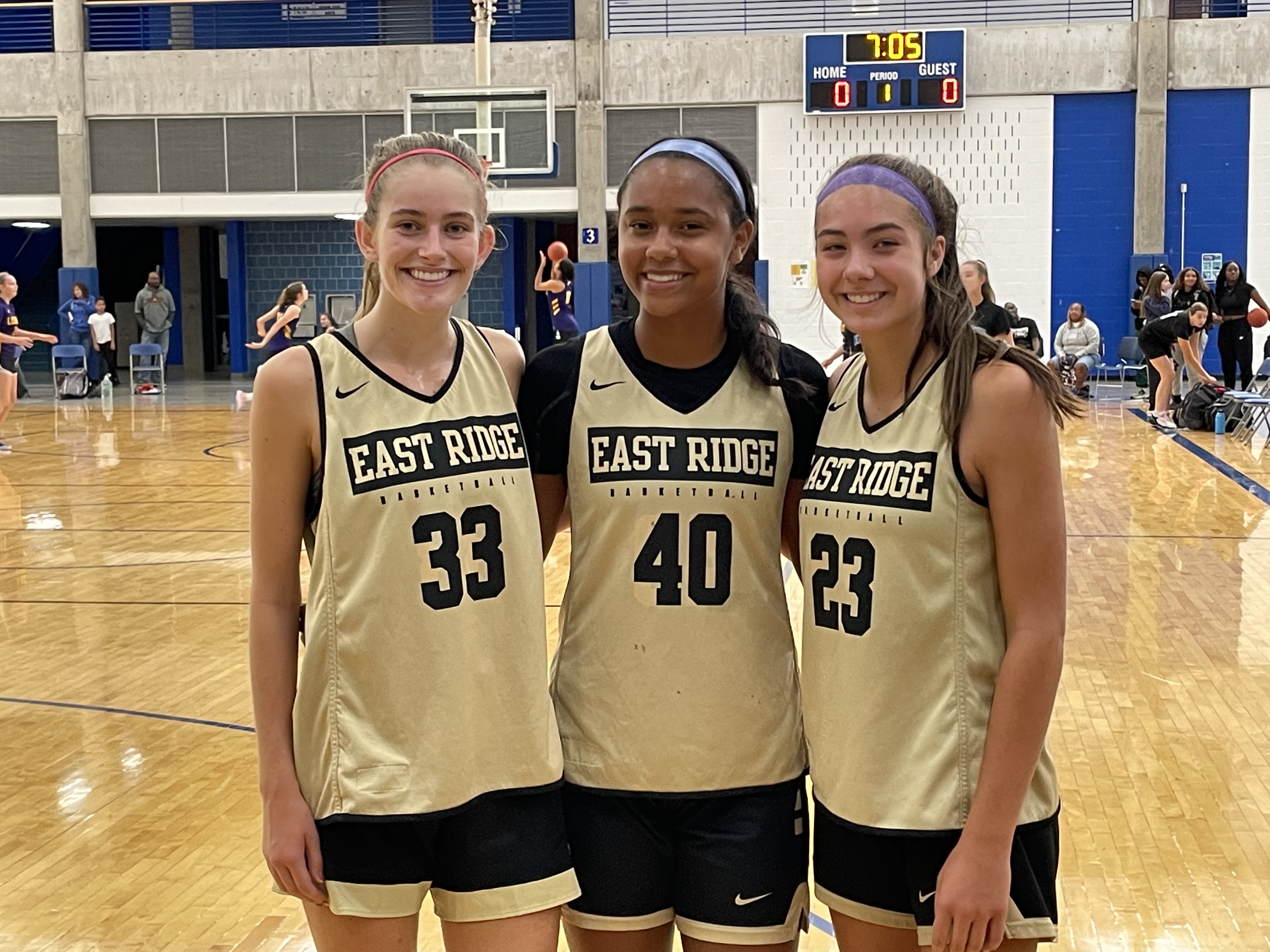 SENIORS TO SEE
The Raptors, coached by former University of Minnesota standout Ashley Ellis-Milan, are coming off a very successful 20-win season. They graduated just one player in their top seven and return a stellar lineup led by the three college-bound seniors pictured above – Emily Christenson
Emily Christenson 5'11" | SF East Ridge | 2023 State MN , Grace Knupp
Grace Knupp 5'8" | CG East Ridge | 2023 State MN and Isabella Sanneh
Isabella Sanneh 5'11" | SF East Ridge | 2024 State MN – along with fellow senior Carly Rekstad and the aforementioned underclassmen Klauer and Wildman. It's an impressive group. Christenson, ranked 27th in the Prep Girls Hoops Class of 2023, was one of the top-rated seniors to see on Sunday who have yet to make a college commitment, along with the 30th-ranked Counts.
Grace was on fire Sunday. She attacked the basket on offense from start to finish. Defensively she battled on the boards with her usual intensity. At 6'1, with a big frame, nice speed in the open court, and very good agility, Counts is an elite prospect with the potential to be very successful at the Division 1 level. Christenson is one of the premier shooters in the class, a long and agile guard who consistently performs at an elite level. It will be interesting to see where the two of them end up. Both would be huge assets for a scholarship-level program.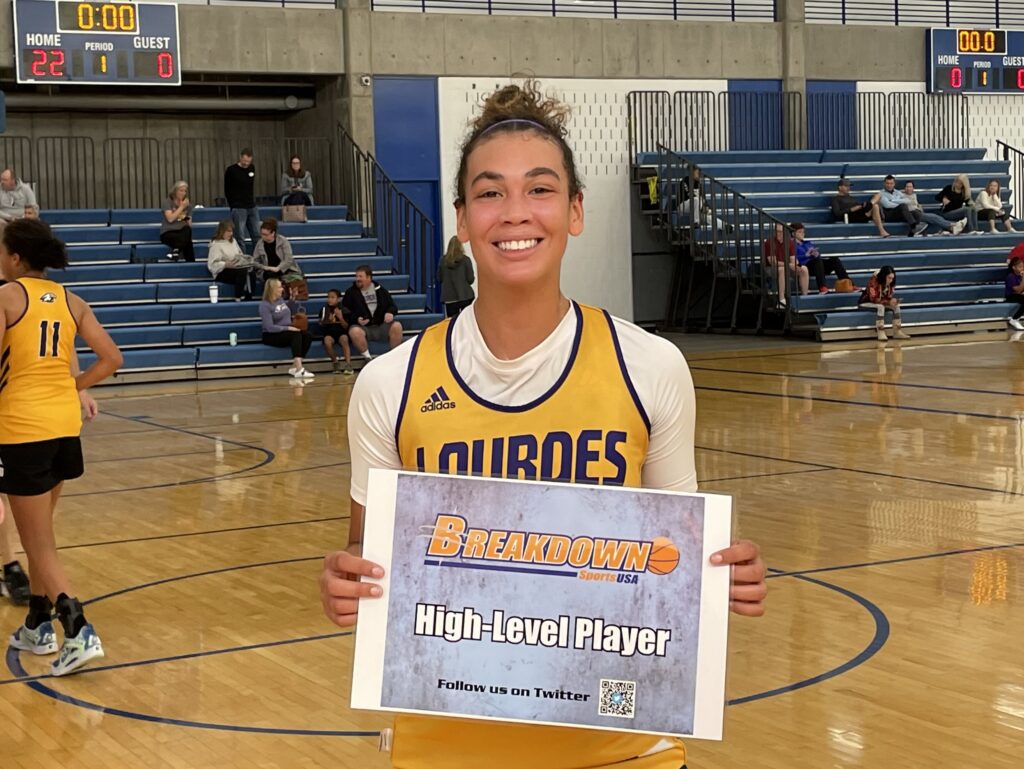 One more senior who had a very nice day on Sunday was Vivica Bretton
Vivica Bretton 5'9" | SF Rochester Lourdes | 2023 State MN (photo above) from Rochester Lourdes. With a new coaching staff it's not entirely clear how good the Eagles will be this year, or if they'll be able to match the 21-win campaign of last season. What is clear is how good Viv is going to be. The savvy guard is just so consistently solid. She showed it again on Sunday with a pair of strong outings against Bloomington Jefferson and Maple Grove. Bretton is an elite defender with a big body who can guard anyone. The versatile veteran can also score. Bretton recently committed to Winona State which clearly got themselves a winner.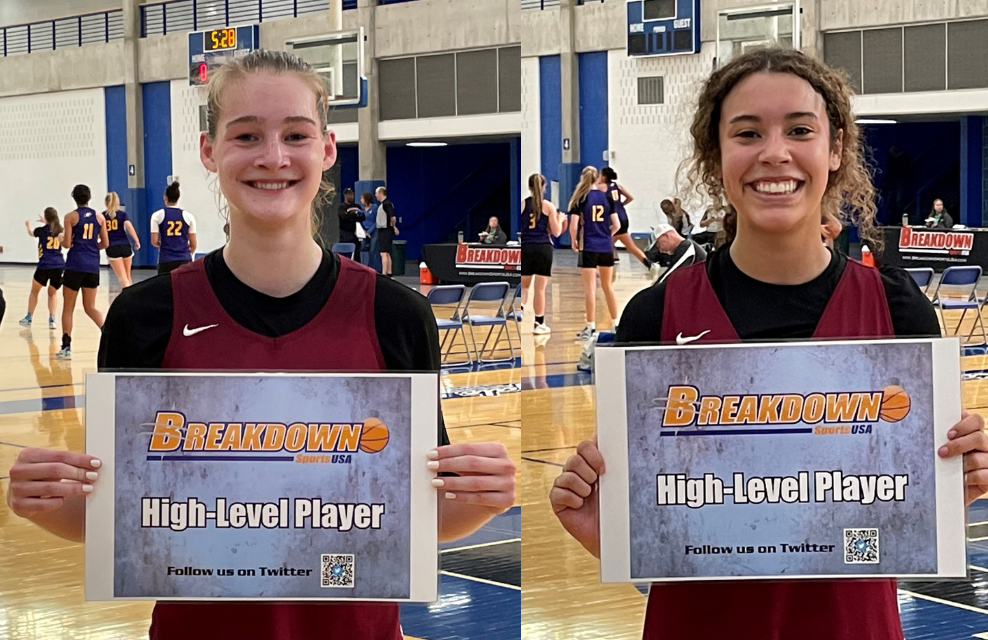 TEAM TO WATCH
Everyone is talking about Hopkins and Minnetonka and St. Michael-Albertville as potential top dogs in Class 4A this winter. It would be foolish, however, to overlook Maple Grove. The Crimson rolled onto the court on Sunday with a starting lineup that includes three Division 1 commits and one of the most-highly sought prospects in the Class of 2025. Senior guard Kennedy Klick
Kennedy Klick 6'0" | CG Maple Grove | 2023 State MN (photo right) will play in the Big 10 for coach Lindsay Whalen at the University of Minnesota. Giant senior post Audrey Kormann
Audrey Kormann 6'2" | PF Maple Grove | 2023 State MN will play basketball and pursue a degree in Environmental Engineering at the New Jersey Institute of Technology. Junior forward Claire Stern
Claire Stern 6'1" | SF Maple Grove | 2024 State MN , who has looked excellent after missing a good chunk of last season with a back injury, has verballed to North Dakota State University in Fargo. And then there's sophomore guard/forward/wing Jordan Ode
Jordan Ode 5'11" | CG Maple Grove | 2025 State MN (photo left), who already has high major offers in her back pocket. Kate Holmquist
Kate Holmquist 5'7" | PG Maple Grove | 2026 State MN , an elite freshman guard, was in a boot on Sunday and will be out the next couple of weeks but she, too, is a top-drawer talent. Coach Mark Cook's Crimson won 24 games last season.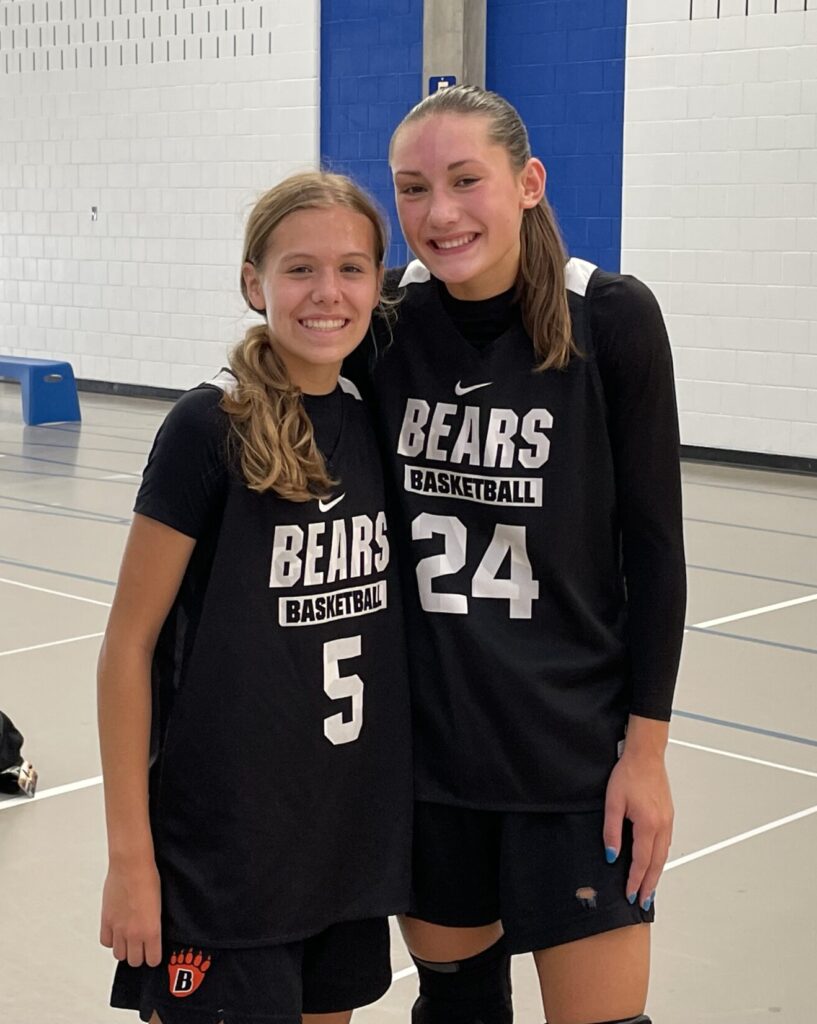 RISING STARS
White Bear Lake was one of the most surprising squads of the last campaign. Nobody expected coach Jeremy Post to lead his team all the way to the State Tournament in Minneapolis, but that's exactly what the wily veteran did. Now the Bear's share of the burden will fall to the shoulders of two rising stars: junior Jordyn Schmittdiel
Jordyn Schmittdiel 5'11" | SF White Bear Lake | 2024 State MN (photo right) and sophomore Addison Post
Addison Post 5'6" | PG White Bear Lake | 2025 State MN (photo left). Schmittdiel is a super-long, highly-athletic guard who really blossomed last season. After a summer in which she combined AAU basketball with MN P.R.E.P. and elite soccer, she is poised for a breakthrough campaign. Post, who is one of the craftiest floor generals around, is an elite ball handler with light feet, quick hands and the basketball IQ we often see from a coach's kid. Keep an eye on these two.
ONE MORE TO WATCH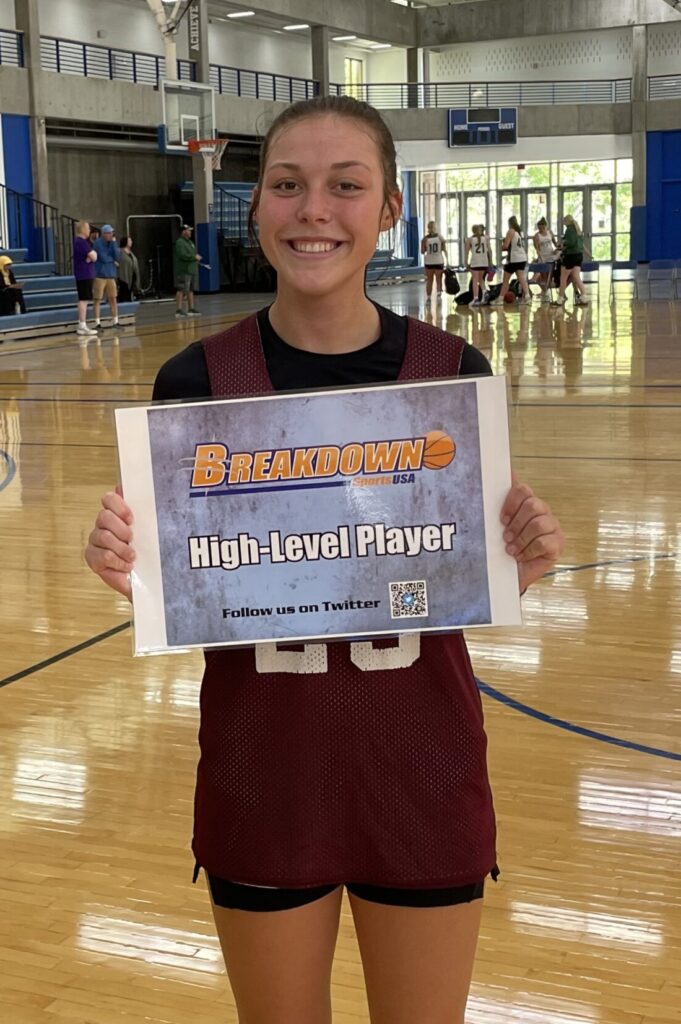 Stewartville junior Savannah Hedin
Savannah Hedin 5'9" | SG Stewartville | 2024 State MN is a high-quality athlete who gets around the court with speed, agility and maximum RPMs. Her overall game has really improved over the past year and the guard is poised for a big season.
Tomorrow we'll look at some fresh faces who stood out on Sunday at Breakdown Fall League.