The college basketball season is here! For Minnesota graduates making their debuts this coming week at the next level, it's time to show what they can do for real. No more summer workouts. No more exhibition scrimmages. No more living off the reputation they built in high school and AAU. You've either been humbled already or you will be soon.
By the time Thanksgiving rolls around the realities of life at the next level will be hitting home. Players will be lost. Frustrated. Sore. Lonely. Homesick. Lacking in confidence. And yes, some will already be thinking about entering the transfer portal at season's end. That's why trainer Damien Lolar of Verve Basketball in the Twin Cities has launched a new service this fall that he's calling the "Work's Not Done" package. We're calling it the Portal Prevention Program.
"Most people, when you arrive at college you are searching for comfort. This is why the transfer portal is so crazy," Lolar said. "College basketball is uncomfortable. Your dorm room is uncomfortable. The food is uncomfortable. The practices are uncomfortable. You have new friends. You have a new family. So you are in a new rebuilding phase that you have to get comfortable in. You have to figure it out."
It can be difficult those first few weeks when your ego gets bruised by constant criticism from the coaches, when you are no longer certain you have what it takes to be successful in college, when you see the veterans ahead of you in the lineup getting all of the minutes. None of it is easy. That's where having a listening ear and an experienced source of advice can make such a difference.
Instead of feeling threatened by that veteran player, and being tempted to pursue the transfer portal to get playing time, players can look at the situation as a challenge that can be dealt with. "Instead of worrying about it, now you are thinking, 'Let me figure out what she did to be successful," Lolar explained. "Let me get under her wing. Let me go out for lunch with her. Let me find out where she is going to get extra shots up. Let me learn from somebody who is successful instead of comparing and trying to find a different situation."
Lolar, who has trained such freshmen as Mikayla Aumer (North Dakota) and Amelia Valentino (Upper Iowa) along with several male players, communicates with his clients on a regular basis. Using FaceTime, they break down the video of recent practices, talk through areas where players can improve and discuss the challenges they are facing. He helps the athlete understand what the coach is really saying, what the player can do to improve, how they can navigate these often choppy waters. Instead of taking the criticism personally, the freshmen can now look at it with new perspective.
"We are helping players navigate the college basketball experience," Lolar said. "We do terminology breakdown, we do film breakdown, we do game breakdown. We do a lot of different things to help the player understand not only their coaches but also the process. We let them know that it's OK that you are struggling, it's OK that you are homesick, it's OK that you are the third-best player right now. What are you doing to become better?"
"A lot of it is making sure the player is in a good mental state and understanding that it may not be as bad as you think it is," he continued. "But if you constantly sit in your dorm room and beat yourself up and don't reach out and talk and go get extra help and extra reps, that's a problem. I am helping them understand the process from somebody that's been through it and also reaching out and grabbing information from my network and letting them hear from other people, as well."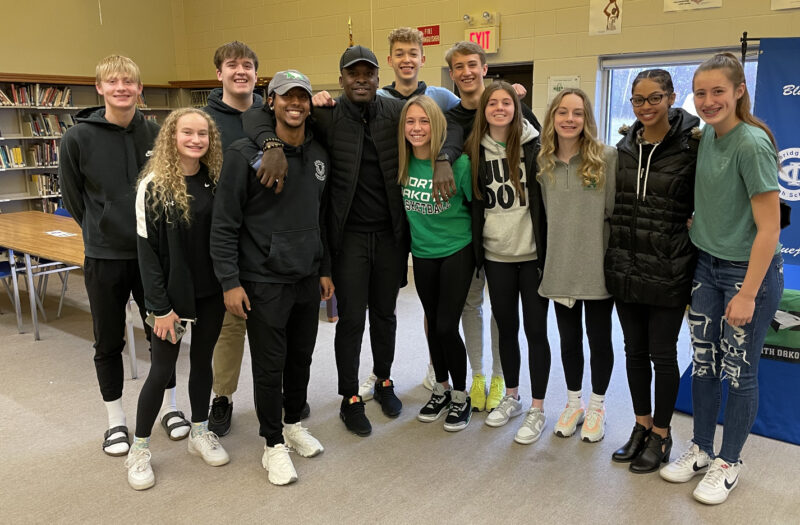 The voice of experience
The challenges facing college basketball players early in their careers at the next level are not new. Lolar lived it first-hand back in the day. When did he get the urge to transfer out as a freshman at Cowley Community College in Arkansas City, Kansas? "The first day!" Lolar said with a laugh. "What people don't understand about college basketball is that every day there is a mental fight. You're constantly wondering if there's something better out there for you. Now that we're in the information age, it's all out there. Everything seems better somewhere else. I didn't have the access to information these kids have or I would have left a thousand times. What you are thinking about now can happen immediately, unfortunately. If you don't have people speaking with you, if you don't have people you can call and check in with, you are going to always go for what's easier, you are always going to search for comfort."
For Lolar it was his college assistant coach who provided a listening ear and some good counsel. He was in his 20s and had recently played for the head coach, an old-school taskmaster who didn't pull any punches and demanded a lot. The assistant served as a translator of sorts. "He helped me understand that the stuff that the coach was saying, that I was taking personally, wasn't as bad as I was taking it," Lolar explained. "I ended up going from the bottom of the pack to the best scorer in the league just because I finally got it."
After the season Lolar turned down several Division 1 opportunities, including Loyola-Chicago and Butler, because he didn't want to take a required algebra class in the summer. "It was stupid," he said, "but I just wanted to go play." Instead he went to Division 2 West Texas A&M where he averaged 26 points a game, was named Lone Star Conference Player of the Year, won the conference championship and then turned pro after two seasons. "I was the man there but I should have gone D1 because I didn't really develop. I just didn't have anyone then giving me good counsel. That's why I'm so passionate about this."
Pushing through adversity
The 'Work's Not Done' program is already making a difference for some of the players who have been training with Verve Basketball over the past few years. Athletes are turning harsh criticism about their play into action and opportunity. "I have already had one player who went from thinking 'I don't want to be here' to the coach telling her, 'I want you to fight for a starting spot," Lolar said. "This was over a period of just two or three weeks." What was the difference? What had been missing that changed the coach's opinion of the player? "Attention to detail," he said, "and actually leaning into the coaching instead of running away from it. You need to make sure that when the coach is talking to you that you are really taking it in."
That is exactly the type of outcome Lolar hopes to achieve with this new program. We all know the transfer portal is out of control. We've seen the disappointment when players go from a bad situation to one that's worse, or don't get a second chance at all. Lolar just wants to reduce the temptation for athletes to take that route when things get hard.
"I think the biggest thing is just helping people push through adversity, push through misunderstanding," he said. "I just want to help people understand that maybe the grass isn't always greener, to understand the situation they are in. Are there kids that do need to transfer? That may be the case. It's not saying that nobody should transfer, but at least go through this process and talk to people that aren't from your home town or your AAU team, that aren't just appeasing your thoughts. If I don't think it's right, I'm going to tell you that. I'm going to give you the honest feedback."