The best point guards in the girls' prep class of 2023 range in height from 5-2 to 5-7. Here's a look at five of them: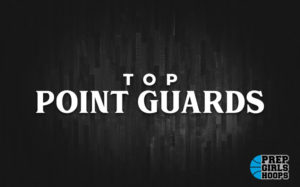 Sienna Cherwinski Sienna Cherwinski 5'7" | PG Xavier Prep | 2023 State AZ is a five-foot seven-point guard for Xavier Prep and also plays for her club team, AZ Select. She is considered one of the top point guards in the class of 2023. Last season the Gators lost in the state tournament to the 6A State Champions, Valley Vista. Xavier Prep finished the season 13-4 and 6-2 in their division. Sienna averaged 8.4 points as a freshman and 7.4 points a game as a sophomore. She won Player of the Game three different times from December 2019 through February 2021 as selected by Max Preps. While in eighth grade playing for her club team, she was selected Gold All-Tournament Team at the second Diamond Classic.
In her profile, Sienna wants to work hard enough to have college choices. She also wants to be pushed by her college teaches and coaches, both academically and athletically. She maintains a 4,0 GPA and is bilingual. She learned Spanish from her mother who is from Colombia. One scout refers to Sienna " as equally skilled as both a shooter and facilitator.": Playing for Head Coach Jennifer Gillom, she is a natural leader. "She has great leadership ability," said her coach. "She will contribute quite a bit because of that."
Hannah Beard Hannah Beard 5'5" | PG Verrado | 2023 State AZ is a five-foot-five point guard who plays for Verrado High school in Buckeye. She also plays for her club team, 602 Lady Nation. Last season Verrado finished 18-2 overall and 6-1 in their conference. The Lady Vipers lost to Millennium in the state playoffs, 47-24. For the season, Hannah averaged 4.0 points, 6.2 assists, 4.6 rebounds, and 4.5 steals per game. Between 2019 and 2021, she was named Player of the Game on ten different occasions by Max Preps. She has played in 45 games in her first two years.
Hannah plays for her father, Vernon Beard, who is the Head Coach of the Lady Vipers. At one time, Verrado had a 17 game winning streak last year. One scout said Hannah "is one of 5A's top defenders and distributors. She can dominate with her scrappy style without scoring high numbers." Another scout had this to say: "She can run just about any offense to get players easy shots while being able to create her shot when needed." Hannah is being recruited by a number of Historically Black Colleges but the numbers of recruiters will certainly increase as she begins her junior year.
Olivia Arvallo Olivia Arvallo 5'2" | PG Valley Vista | 2023 State AZ is a five-foot three-point guard for Valley Vista High School in Surprise. She also plays for her grassroots team, West Coast Elite. Last season, under Head Coach Rachel Matakas, the Monsoon won their fourth 6A State Championship in five years. Valley Vista defeated Hamilton, 49-41 with Olivia contributing eight points including two three-point shots. For the season, she averaged 5.8 points and 2.2 assists per game. Playing in two games as a freshman, she went 6 for 6 from beyond the arc.
One scout had this to say about Olivia. "She is developing into one of the top prospects in the class of 2023. She's improved and gotten bigger and quicker. She is a haul-down shooter and crafty ballhandler." Another scout commented as well on her play. "As a freshman, Arvallo played a pivotal role in the Monsoon's success. Even though she's relatively small, she does a phenomenal job against bigger players and is quick in moving the ball down the court." She also maintains a 3.5 GPA.
Cambria Medina
Cambria Medina 5'5" | CG Salpointe Catholic | 2023 State AZ is a five-foot-four point guard for Salpointe Catholic High School. She also plays for her grassroots team, TNT. The Lady Lancers finished last season with an overall 19-2 record, 5-1 in their division. Salpointe Catholic lost in the championship game in the 4A state playoffs to Seton Catholic, 70-62. A few days before Bria had a game-high 20 points as SPHS beat Sahuaro in the state semifinals, 51-46. She averaged 8.5 points per game as a sophomore along with 4.0 steals and 2.7 rebounds. In 50 games over her first two years, she averaged 7.5 points per game.
One scout had this to say about Bria, "She is a solid prospect who is a defensive menace, has great anticipation and scoring ability, and is a tremendous prospect with great upside. Another coach commented, " She is an incredible competitor capable of scoring at all three levels and plays outstanding defense." Her club team recently won the Arizona Preps Summer Clash, defeating Gilbert in the championship game, 45-31. Bria also has a weighted GPA of 4.05 and made the Sports360AZ All-Academic Girls Basketball Team.
Hannah Alvarez is a five-foot-five point guard at Horizon High School in Scottsdale. She also plays for her grassroots team, AZ Magic. As a freshman (2019-2020) Horizon went 18-12 overall and 8-4 in their conference. Hannah averaged 11.3 points per game, 3.2 assists, and 4.8 rebounds. As a freshman, she played in a total of 25 games.
One scout had this to say about Hannah's game. "She has tremendous vision and court awareness. She is able to see plays before they happen and she is as unselfish as they come. Hannah has good range on her jumper and she pushes the ball downhill very well. Her play increases as the competition increases. She is a gamer." Approaching her junior season, she should have a breakout year.