Now let's look at another handful of my favorite players from the Select 40 Session II. Below I count down my favorite players from #30-#21. #30 Amy Terrian Amy Terrian 5'8" | CG Pewaukee | 2025 State WI |…
Now let's look at another handful of my favorite players from the Select 40 Session II. Below I count down my favorite players from #30-#21.
#30
Amy Terrian
Amy Terrian 5'8" | CG Pewaukee | 2025 State WI | Wisconsin Lakers|5'8''|PG|'25
I like Terrian's makeup. She is the ultimate competitor who plays her hardest every possession. Terrian has the confidence of a rising senior and doesn't look phased against older competition. She is a deadly outside shooter who also is comfortable putting the ball on the floor with either hand to create shots in the mid-range. I like Terrian's overall approach to the game, and she was instantly one of my favorite point guards to watch as soon as she stepped onto the court. 
#29
Kaniya Boyd | Vegas Bulldogs|5'9''|PG|'24
Boyd is an absolute killer on the court. I only watched her on day three at Select 40, but you can tell she is an elite scorer right away. Upon receiving the ball, Boyd is patient and sees what the defense gives her before making a move. Boyd's athleticism is next level, her finishing and body control in the air is jaw-dropping, and Boyd will make an impressive play for herself or her teammates when going downhill. Boyd is one prospect I wish I had been able to see more of early this week because she was one of the most talented kids in the gym.
#28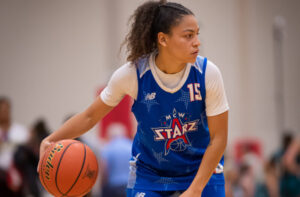 Yirsy Queliz
Yirsy Queliz 5'5" | PG St. Mary's | 2023 State NewE |MCW|5'5''|PG|'23
I thought defensively Queliz was as good as I've ever seen her. She was dialed in on all cylinders, reading the offense well and forcing turnovers. Her energy was infectious, and Queliz was highly dynamic in MCW's press. She also made big plays on offense in crunch time. Whether it be a tough finish on bigger rim protectors or impressive shot-making from the perimeter, Queliz was getting the job done. 
#27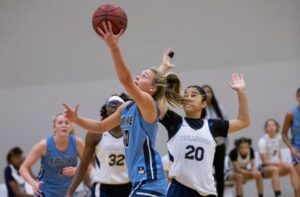 Ava Sollenne
Ava Sollenne 5'7" | CG St. Luke's | 2023 NY |Empire|5'5''|PG|'23
Sollenne was one of the fiercest competitors I watched. She battles from beginning to end and isn't intimidated by anyone. She will attack whoever guards her, get to her spots, and score against bigger and more athletic defenders. I also liked Sollenne's decision-making when pressured. You can tell she knows her teammates' strengths and tries to put them in spots to be successful. It is hard not to be a fan of how Sollenne commands the floor and plays the point guard position. 
#26
Skylar Jones
Skylar Jones 5'9" | CG Whitney Young | 2023 State IL |Mac Irvin Fire|6'0''|PF|'23
Jones' two-way versatility was a problem for everyone she faced in Indiana. Her ability to defend the post, switch out, slide her feet, and stick guards/wings was cool to watch. The combo forward has range extending beyond the three and can handle the ball in transition. Jones was a terror on both sides of the ball. 
#25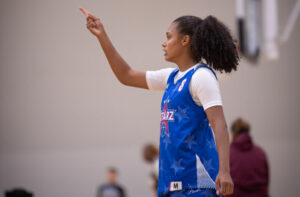 Niya Morgen
Niya Morgen 5'4" | PG St. Mary's | 2023 State NewE |MCW|5'6''|PG|'23
Morgen had her offense going throughout the three days in Indiana and effectively got to the hoop. She was getting by her defender easily and knifing her way into the paint, completing the play with smooth finishes. Most importantly, Morgen's ball control was really good. She didn't make many poor decisions with the ball or turn the ball over lazily when penetrating. 
#24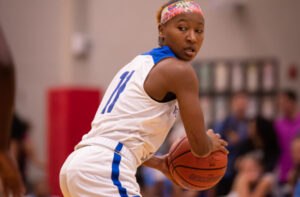 Joniyah Bland-Fitzpatrick
Joniyah Bland-Fitzpatrick 5'10" | SF St. Benedict's | 2023 State NJ |New Heights|5'10''|SG|'23
Bland-Fitzpatrick does a little bit of everything for New Heights and is the ideal glue player for any team. No matter what her stat line may read at the game's end, she consistently impacts the game at a high level on both ends. Her hustle and toughness are what stand out from the start. Bland-Fitzpatrick battles on the glass every time a shot goes up; she runs the floor faster than anyone and has the athleticism and size to defend any player. She is a strong and powerful finisher who explodes through contact and can get to the free-throw line. 
#23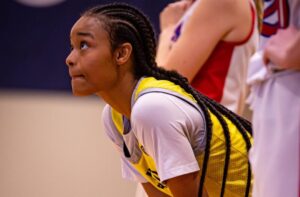 Mya Pauldo
Mya Pauldo 5'7" | CG Morris Catholic | 2025 State NJ |NJ Sparks|5'7''|PG|'25
Pauldo has no issue digging in and getting right in her opponent's face on defense. Her effort and energy are contagious, and she sets the tone on that side of the ball every game. Pauldo is a clutch defender who makes game-changing plays down the stretch and does things that sometimes go unnoticed, like fight through screens and sprint back in transition. She has quick hands and makes it a habit to jar the ball loose from her opponent. Pauldo can fill up the scoring column on offense with her outside shooter and aggressive slashing. 
#22
Emily Noerr Emily Noerr 5'10" | SF Chardon | 2023 OH | MAC Basketball|5'10''|PG|'23
I thought Noerr was one of the most tenacious on-ball defenders from Select 40. I knew nothing about Noerr coming into the event, but it was hard to ignore her size, physicality, and lateral quickness on the court. Noerr makes it difficult for anyone to penetrate the lane. She cuts off angles and constantly forces ball handlers to retreat, dribble or pick it up prematurely. I liked Noerr's overall approach to the game. She doesn't back down from anyone and will defend whoever is in front of her. 
#21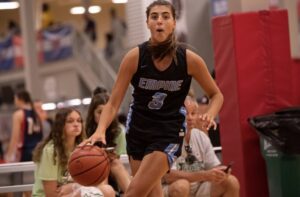 Chloe Sotell
Chloe Sotell 5'10" | CG Monteverde Academy | 2024 State NewE |Empire|5'10''|SG|'24
Sotell not only impressed me with her long-range shooting, but I thought her passing and playmaking were exceptional. I already knew how explosive a scorer Sotell was at every level, and once again, she showed her proficient shot-making ability. In the halfcourt, Sotell saw the floor well and made some insanely accurate passes with the proper ball placement and touch behind them. Sotell has good size and is a special talent who is in the conversation for the best New England wing in the '24 class.