A lot can happen in 111 days. That's how long it has been since we last updated the prospect rankings for the Prep Girls Hoops Class of 2025. During that time we have witnessed the most important weeks of the AAU season, a month's worth of tryouts for next year's spring/summer teams, six weeks of action at the Breakdown Fall League, three weeks of games at the Fall Exclusive, and, of course, the Prep Girls Hoops Top 250 Expo. That's an awful lot of opportunities for players to improve their skills, perhaps grow an inch or two, gain more high-level experience and showcase their improvement. For the 200+ sophomores currently in our prospects spreadsheet, the results of those efforts are in and the rankings have been adjusted accordingly.
Before we dive into the changes let's remind you of a few important facts about the Prep Girls Hoops prospect rankings:
1. Rankings are determined based on a player's prospects as a college basketball player, NOT their current level of performance. In other words, we are projecting where the players will be three years from now, not selecting the best players today.
2. We're looking for athleticism, size, ball-handling skills, shooting ability, basketball IQ, defensive understanding, communication, effort level, toughness and intangibles such as body language.
3. Player evaluations are compiled by a wide variety of observers, including coaches (AAU, high school and college), AAU directors and our own network of scouts. We protect the anonymity of all evaluators to ensure that the assessments are as honest and accurate as possible.
4. Participating in a Prep Girls Hoops event won't get a player into the rankings but it will provide them with the best opportunities to showcase their skills in front of the right people at the right time.
5. Although it is possible to make it into the rankings without playing AAU basketball your odds are much better if you do. AAU is still the best exposure opportunity available.
Not that we've got the fine print out of the way, here's the latest on the Class of 2025.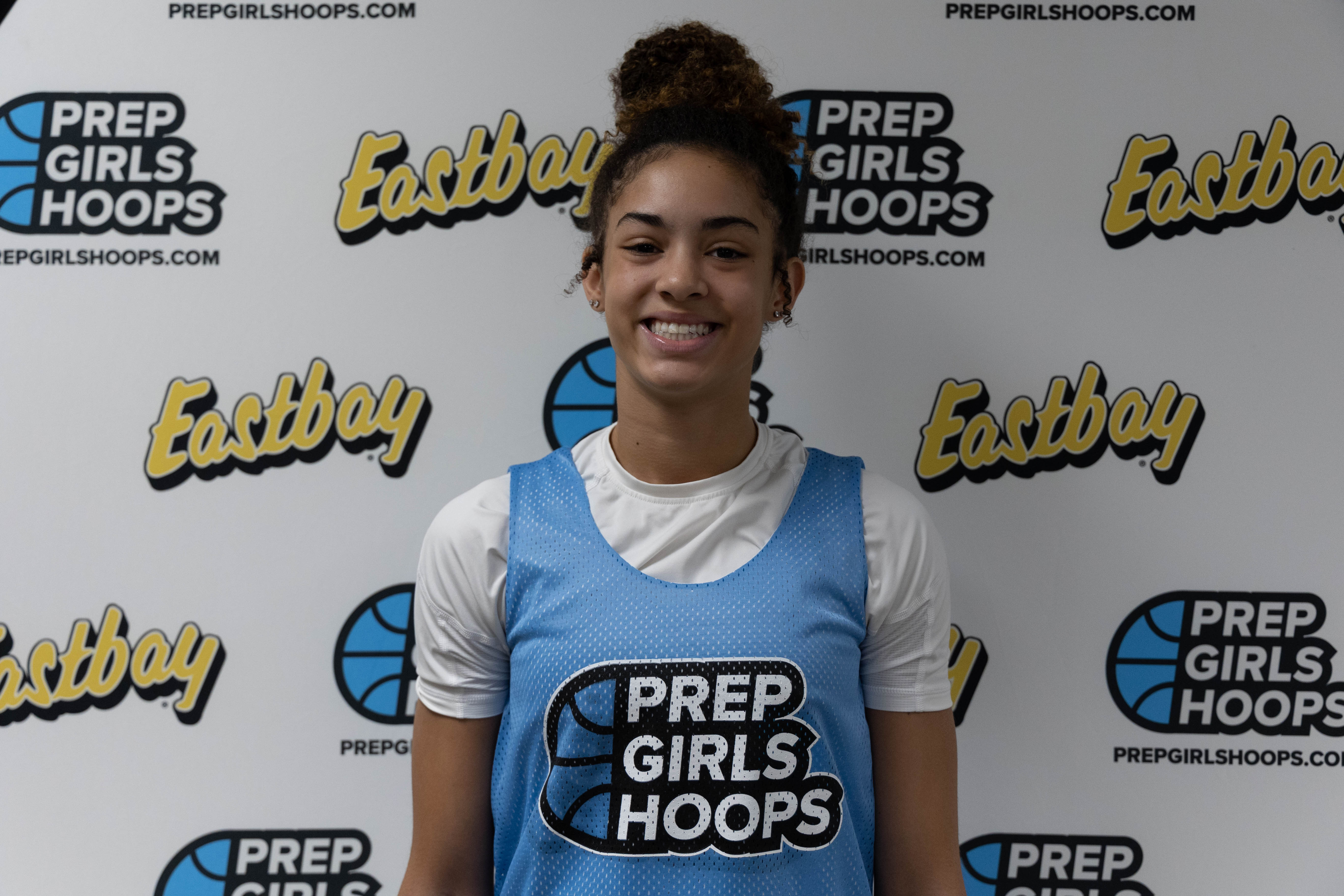 THE TOP 5
No news is good news if you are a member of the Top 5 prospects in Minnesota's sophomore class. That's because the order hasn't changed since our last update at the end of June.
MOVING UP IN THE TOP 10
#6 Tori Schlagel
Tori Schlagel 5'9" | CG Eden Prairie | 2025 State MN –  The versatile guard from Eden Prairie rises one position into the 6th spot in the 2025 rankings. There is just so much that Tori can do and not a whole lot that she can't. She is an elite defender who relishes the tough assignment. She is an elite passer who is a key piece of whatever offense she plays in. And Tori can score. That's never her first objective but she is more than capable of filling the basket if that's what her team needs most.
#9 Abby Hoselton
Abby Hoselton 5'11" | PF STMA | 2025 State MN – The rangy forward from St. Michael-Albertville has cracked the Top 10 for the first time, moving up two positions to #9. When we first watched Abby two years ago she was a raw talent who lacked the experience of high-level basketball. Since that time she has added a ton of tools to her box and gained the know-how acquired from the AAU school of hard knocks and the Class 4A department of lessons learned. Abby has size, length, athleticism and a gigantic powerplant.
#10 Autumn McCall
Autumn McCall 6'2" | PF Centennial | 2025 State MN – The lanky forward from Centennial (banner photo) is our biggest stock riser among the upper echelon of the 2025 class. She arrived on the scene two years ago with height and length and a whole lot to learn. Today she is a sophisticated stretch 4 who can burn you inside or out with a smooth shooting stroke or stellar footwork down low. She is also a tough, physical competitor and a high-energy teammate. Autumn is on the way up and she's now in the Top 10.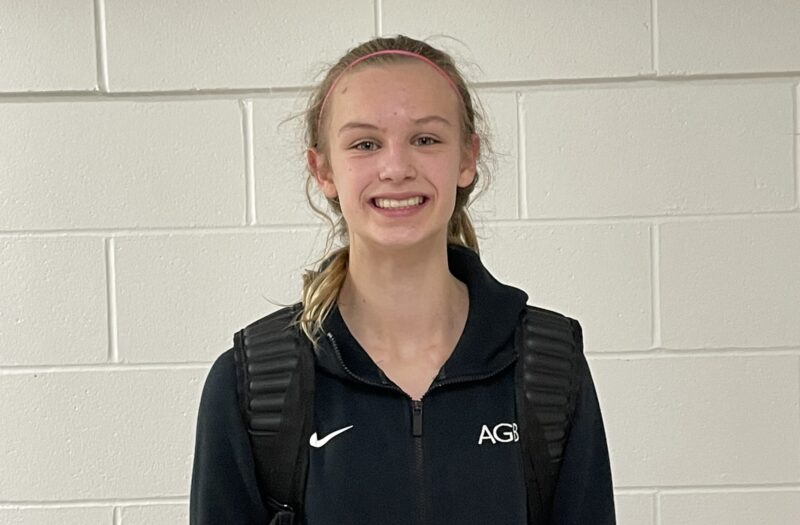 RISING IN THE NEXT 10
#11 Hadley Thul
Hadley Thul 6'1" | SG Alexandria | 2025 State MN – The position-less prospect from Alexandria (photo above) competed on the biggest stages for the first time this summer with North Tartan, proving that she is more than capable of going up against some of the best in the nation. Her length, athleticism and adaptability make Thul a strong Division 1 prospect. Just wait 'til she fills out! Hadley moves up one more position to #11 among Minnesota sophomores.
#12 Liana Buckhalton
Liana Buckhalton 6'0" | CG Stillwater | 2025 State MN – Now that she's healthy the lengthy guard from Stillwater is really starting to show what she is capable of. Buckhalton uses her length, speed and athleticism exceptionally well on the defensive end of the floor. She is an elite playmaker who makes everyone around her better. And now she is starting to score the basketball on a more consistent basis. Liana rises four positions to #12.
#16 Hope Counts
Hope Counts 6'2" | SF Providence Academy | 2025 State MN – Our AAU Breakout Player of the Year has really come into her own in 2022. Not only did she hold a coming-out party in helping Providence Academy win the Class 2A State Championship but she went on to have an exceptional summer in AAU. Counts is drawing plenty of D1 interest and that's going to grow as her skills evolve. Hope has tons of potential, and that is reflected in her 5-position improvement to #16.
#20 Rae Ehrman
Rae Ehrman 5'9" | SF Eden Prairie | 2025 State MN – The scrappy competitor from Eden Prairie is difficult to categorize but even more challenging to stop. All she does is go, go, go – 100 percent all-in, all of the time. We've seen it many times from her over the years but Rae cemented that impression with a really strong series of performances at the Fall Exclusive that reminded us just how much she brings to the table. Ehrman moves up into the Top 20 with a four-position improvement.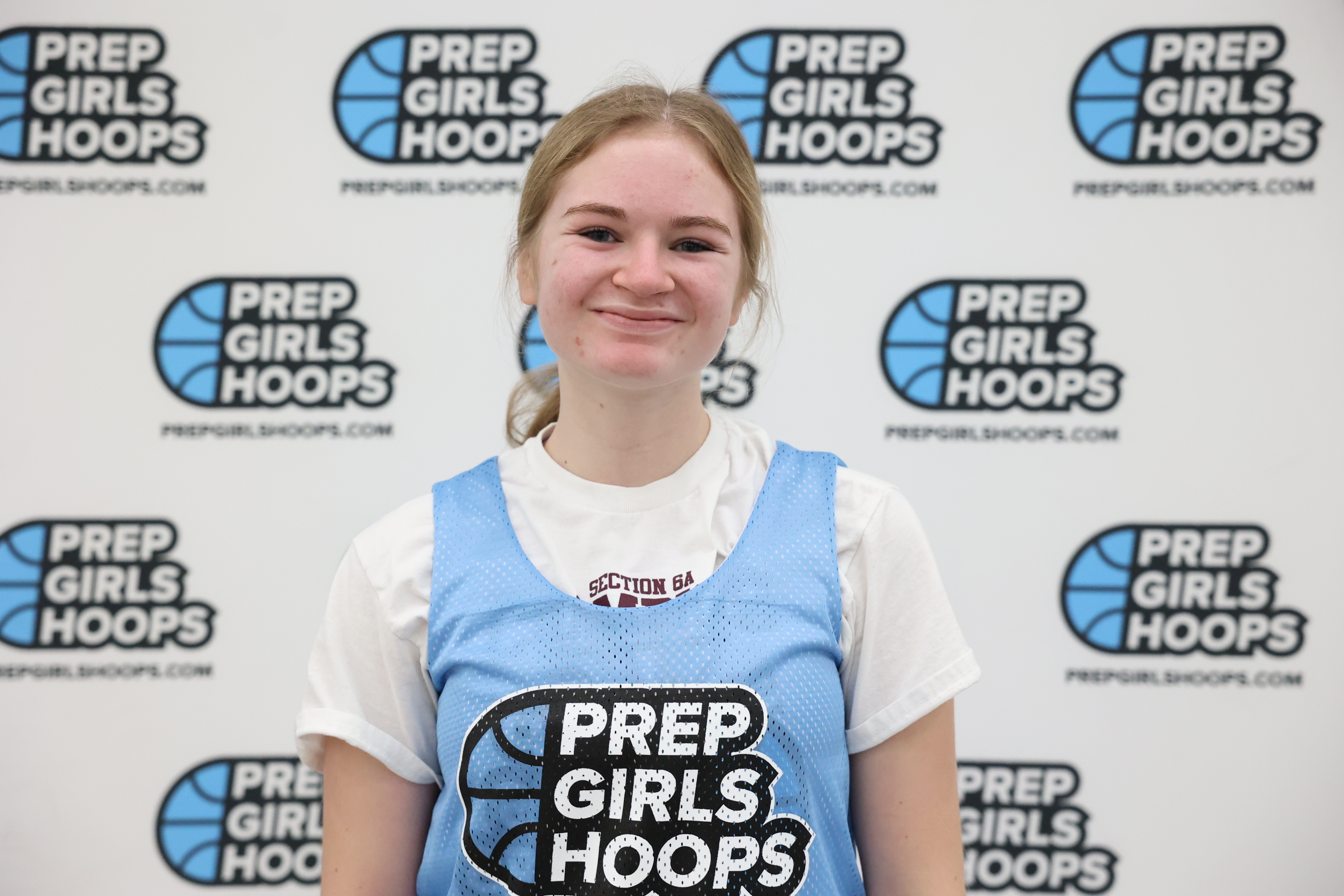 THE REST OF THE TOP 30
#30 Kaitlyn Rohloff
Kaitlyn Rohloff 5'8" | PG Hancock | 2025 State MN – The crafty point guard from Hancock won herself a State Championship last year in Class A as she led the Owls to victory at Williams Arena in March. Kaitlyn's stellar play has continued ever since – in AAU, Fall League and at the Prep Girls Hoops Top 250 Expo. Rohloff has demonstrated the type of consistent excellence and outstanding potential to work her way into the Top 30 for the first time. She rises four positions to #30.
Three others made incremental improvements over the past three months and get a small bump up in the rankings: