I have been in catch up mode for a few weeks now. Among the backlog has been sharing more about players who competed in October's PGH Top 250 Exposure event at Okun Arena, Shawnee, Kansas. Enjoy this look at the team.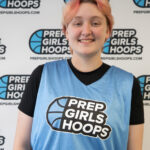 Daphne Bracker-Sturm
Daphne Bracker-Sturm 6'3" | C Lawrence | 2023 State KS , 6'3″, C, Lawrence (KS), 2023 – Bracker-Sturm is a all-event second team selection. A terrific garbage collector around the basket, she more than held her own against other top posts. She has good anticipation and quick feet to help on off-side basket attacks, walls up well, and uses her size; strength; and length well to otherwise clog up the lane. Bracker-Sturm made good use of the baby hook around the basket with both hands and frequently bullied smaller build post players.
Jaicee Carrasquillo
Jaicee Carrasquillo 5'4" Verona | 2026 MO , 5'4″, SG, Verona (MO), 2026 – What I really liked about Carrasquillo's play was how good her head and ball fakes were. Matched with her handles she often got a full step to drive. She also used them to set up a slide dribble to get a clear perimeter shot.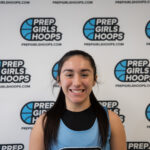 Hannah Coady
Hannah Coady 5'4" | SG Maur Hill Mount Academy | 2026 KS , 5'4″, CG, Maur Hill Mount Academy (KS), 2026 – One little thing Coady does that I really like is how she can turn a casual dribble-up into a canned three. Defenders forget to put ball pressure on or do not respect her shooting or … something. She also showed good ability to split defenders on the top of the key drive. I need to see her passing improve. Poise, discipline and floor reading will come but defenders would sit on ball reversals and other passes to get the pick.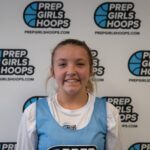 Abbie Numrich
Abbie Numrich 5'7" | SG Blue Valley Northwest | 2025 State KS , 5'7″, CG, Blue Valley Northwest (KS), 2025 – As the day wore on I started watching who the strongest perimeter defenders were guarding. At times Numrich would draw one of them, a real sign of respect. While Numrich runs well, she is not as fast as many of the strong guards. Where she was most effective was moving into space and catching on the move. Numrich often could be found flashing through traffic into the lane. Off the catch she finished well and did so with athleticism. I also liked how well she boxed out on the perimeter.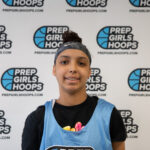 Destiny Smith
Destiny Smith 5'7" | CG Derby | 2024 State KS , 5'8″, PG, Derby (KS), 2024 – Smith is a all-event second team selection. Smith has a confident, unassuming personality on the floor. With other ball handlers on the team she did not start off running the point. That enabled me to watch how she works off the ball especially against the stronger defenders. With an without the ball she has poise and smarts to free herself up and create. Eventually she took over the point as she had the handles and IQ to not get ate up. Smith is a solid defender and works well within the team. In transition she keeps her head up and makes quality lead passes including bounce passes.
Monece Thomas
Monece Thomas 5'7" | CG Leavenworth | 2023 State KS , 5'7″, SF/CG, Leavenworth (KS), 2023 – Thomas did a great number of things well. She hustled, showed speed with and without the ball, moved well without the ball, finishing ability, and the ability to make perimeter defenders look bad with her offensive rebounding. I need to see Thomas stay on the floor as she gets jumpy and to improve lateral quickness and athleticism against quicker defenders. Thomas made a valiant attempt to play some point against the strongest defenders at the event but she is not quite there yet to play Not a strong ball handler. 15 ate her up when tried to bring it up and run the offense. Slips in for ORBs well. Fast, hustles. Solid build. Moves well w/o ball. No quicks or athleticism to defend 15 well. Must stay down.
Skyte Wilson Skyte Wilson 5'3" Clinton | 2025 MO , 5'3″, PG, Clinton (MO), 2025 – A all-event third team selection, Wilson was in the middle of everything it seemed. She matched up well with the quickest guards and was assertive on both ends of the floor. She showed good hops when rebounding, athleticism on finishes, and was unafraid to challenge the trees inside. Wilson does need to work on changing gears as she has a tendency to force things. If Wilson can turn herself into a perimeter shooting threat her half-court game will explode.