When tournament season begins on Friday, some 230 days will have elapsed since Hancock, Providence Academy, Totino-Grace and Hopkins were crowned as high school state champions at Williams Arena in Minneapolis. Not sure about you but we are more than ready for the high school games to begin anew. Following an early Wednesday encounter between Duluth East and Princeton, the season tips off in earnest on Friday and Saturday at Thanksgiving tournaments around the state.
Sleepy Eye St. Mary's will host Cleveland, BOLD and Sleepy Eye Public. The St. Charles tournament features Chatfield, Lanesboro and Southland. And in Minneapolis, Patrick Henry High School will host Minneapolis South along with St. Paul Harding and St. Paul Central. Most of the attention, however, will be focused on the two biggest events of all: the annual Pat Patterson tournament at Hamline University in St. Paul and the Twin Cities Thanksgiving Tipoff at St. Thomas Academy in Mendota Heights. If you want to see a ton of talented prospects and a flurry of great games this is where you need to be. Here's what to expect.
PAT PATTERSON TOURNAMENT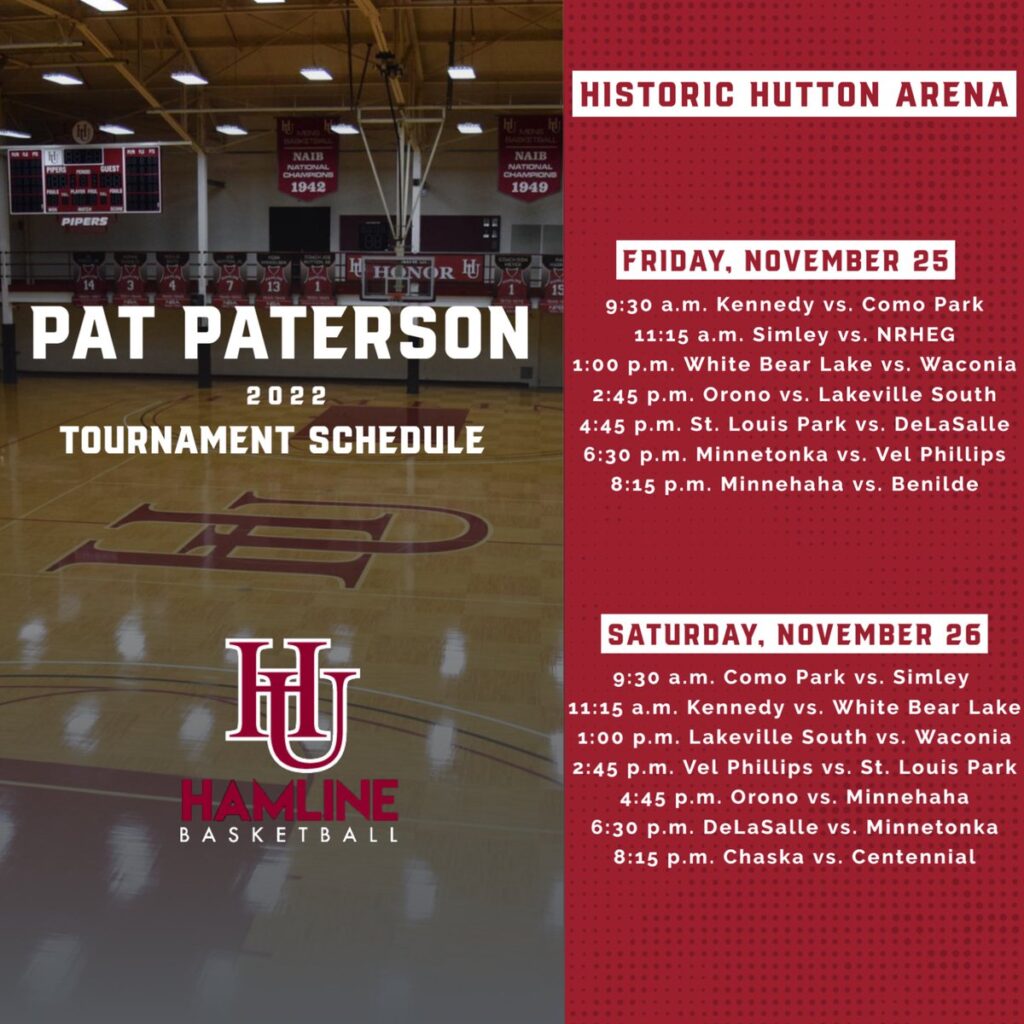 Hutton Arena at Hamline University is the site of this venerable event. It's our favorite place in the state to watch a game, if only for the throwback atmosphere and the historic vibes this gym offers up in abundance. The hospitality of the Hamline women's team is an added bonus! The tournament features 14 squads and seven games per day, all on one court. The leading programs in attendance will include Minnehaha Academy, Benilde-St. Margaret's, Minnetonka, DeLaSalle, Chaska, Centennial and Madison Memorial of Wisconsin. Also in the lineup are the likes of Orono, Lakeville South, Como Park, St. Louis Park and more. The first game is Friday at 9:30 a.m. and last one tips off at 8:15 p.m. They'll do it again on Saturday on the same schedule.
5 Games to Watch
Friday at 6:30 p.m. – Minnetonka vs Madison Memorial
Friday at 8:15 p.m. – Minnehaha Academy vs Benilde-St. Margaret's
Saturday at 4:45 p.m. – Minnehaha Academy vs Orono
Saturday at 6:30 p.m. – DeLaSalle vs Minnetonka
Saturday at 8:15 p.m. – Chaska vs Centennial
Top Prospects to See
TWIN CITIES THANKSGIVING TIPOFF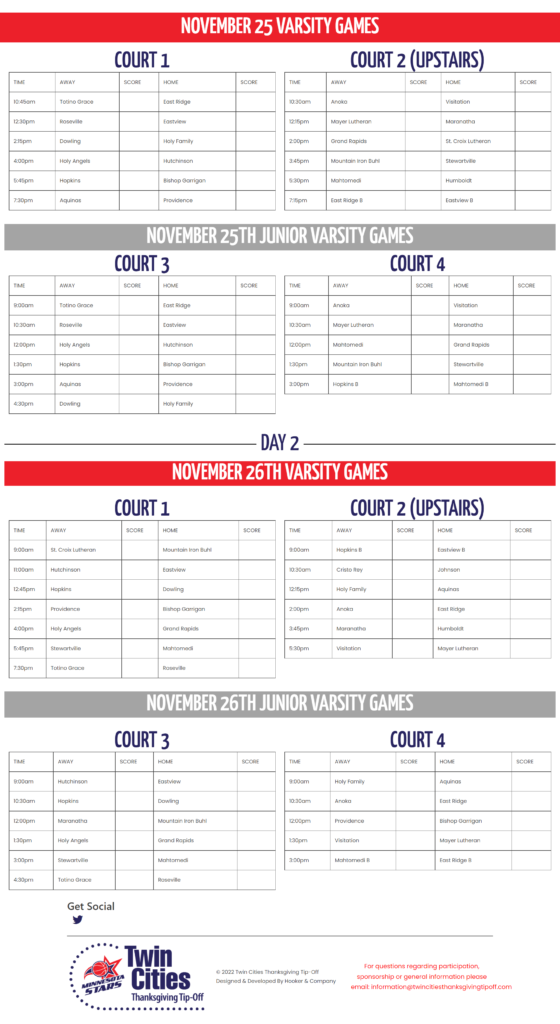 A relative newcomer to Minnesota's tournament schedule, the TC Thanksgiving Tipoff quickly established itself as a place to be on opening weekend. It began as a gathering of parochial schools at the University of St. Thomas. With the Tommies now in Division 1, and thus prohibited by the NCAA from hosting a high school event, the tournament shifted last year to St. Thomas Academy in Mendota Heights where you'll find two dozen games over two days. It features an excellent field that includes the Class 4A champs from Hopkins, the 3A winners from Totino-Grace, and the 2A defenders from Providence Academy.
Also on the docket are the likes of East Ridge, Roseville, Holy Family, Holy Angels, Grand Rapids, St. Croix Lutheran, Mountain Iron-Buhl, Stewartville and Mahtomedi. Additionally there will be three strong programs from out of state: Dowling Catholic and Bishop Garrigan of Iowa, and LaCrosse Aquinas of Wisconsin. The tournament tips off at 10:30 a.m. Friday and continues through Saturday evening.
Games to Watch
It's not Paige Bueckers vs Caitlyn Clark – a match-up of the two premier players in America's Class of 2020 – as it was three years ago at the Tipoff but it's still Hopkins vs Dowling Catholic of West Des Moines and it should be a good one. That game is scheduled for 12:45 p.m. on Saturday. Hopkins will also play on Friday at 5:45 p.m. against Bishop Garrigan, the 2022 Class 1A Iowa state champions featuring gigantic 6'3 post Audi Crooks, who has committed to Iowa State. These two contests are unlikely to disappoint. Here are 5 more to see.
Friday at 12:30 p.m. – Eastview vs Roseville
Friday at 2:00 p.m. – Grand Rapids vs St. Croix Lutheran
Friday at 3:45 p.m. – Mountain Iron-Buhl vs Stewartville
Saturday at 12:15 p.m. – Holy Family vs LaCrosse Aquinas
Saturday at 5:45 p.m. – Mahtomedi vs Stewartville
Top Prospects to See