What a difference a year makes. As the University of St. Thomas embarks on season number 2 in its Division 1 basketball journey, there are more answers than questions this time around. Led by long-time coach Ruth Sinn, the Tommies went 4-14 in the Summit League in year one, 7-21 overall – not bad for the first program in history to make the jump directly from D3 to D1 but nowhere near where they want to be. For sophomore stalwarts Jade Hill and Jo Langbehn, things feel very different heading into their home opener Saturday night at Schoenecker Arena in St. Paul than it did one year ago.
What's changed? "Everything!" said Hill, the Minneapolis South product who played more minutes last season than any other freshman in the country. "I think we are all just more experienced, we all feel more comfortable. Coach Sinn talks about how we all have a library from last year and we're just building on our library. We've played so many different teams now and we have a lot more knowledge about what they are going to do, how they are going to guard us, and how we can attack back."
Talking after practice on Thursday, Langbehn concurred. "Now that we have that library we need to build on that and not revert back to bad habits," she said. "For me, I have learned that teaching the new players this year is helping with my own growth. I feel more comfortable now. I feel like I know what I am doing. Now that I know what I am doing I can go all out."
Langbehn, who hails from Elk River, and Hill are among the core players who will lead the Tommies in year two, along with senior Maggie Negaard of Stevens Point, Wisconsin, sophomore Jordan Lamker of Maple Grove and a host of newcomers who will have to make an immediate impact if the Tommies are going to improve. The team opened play on the road Monday against a strong University of Northern Iowa squad, hanging tough for most of the night before being stymied in the closing moments in what turned out to be a 58-46 loss. The game offered a glimpse of what's possible along with plenty of evidence of what needs work.
"We did some really good things and there were some things we can improve on," said Coach Sinn. "We really controlled the pace of the game when we needed to. We did some really good things on the defensive end. On the offensive end we had a lot of opportunities and we didn't capitalize on them, and we made some careless turnovers. We have to be more efficient with the basketball and really understand what our purpose is. We're still a young team. It is what it is. But we have to move past that and find solutions."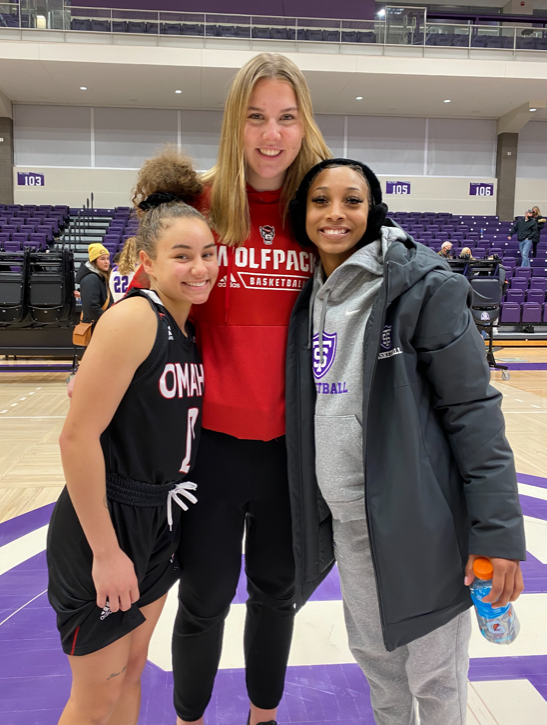 A refreshed roster for 2022-23
Last year the Tommies went to war with a hodgepodge of players that included several holdovers from their highly successful Division 3 era, some talented freshmen like Hill and Langbehn, and the leadership offered by 5th year senior Erin Norling, a graduate transfer who turned out to be the heart and soul of the first-year program. Norling has graduated now, along with veteran Kaia Porter whose leadership and intangibles were unquestioned. Those two combined for 28 points per game. Also departed are D3 holdovers Kate Burns, Abby Mackenthun, Katelyn Stanley and Brynn Schwanz. The only remaining player from the D3 era is Jordyn Glynn of Grand Meadow, a 5'9 senior wing who will play a more important role this season.
The key to this year's team will be those athletes who arrived in St. Paul via the transfer portal:
Senior guard Autam Mendez of St. Paul, a Cretin-Derham Hall graduate who comes over from San Jose State.
Sophomore guard Alexis Pratt, a North St. Paul native who played high school ball at Stillwater and was a regular last season at Nebraska-Omaha.
Sophomore guard Ellie Dague of Henning, who transferred from North Dakota State.
It's hard to say for sure just what the rotation will look like. If Sinn knows she isn't letting on. The Tommies played a dozen athletes on opening night. In addition to Hill, the 6'2 Langbehn, the 6'0 Lamker and  5'10 Negaard, the starting lineup included newcomer Faith Feuerbach, a lanky 6-footer from Sycamore, Illinois. True freshman guard Amber Scalia of Stillwater played significant minutes off the bench as did Dague, Pratt, 6-foot sophomore forward Sammy Opichka of Green Bay and 5'9 sophomore guard Phoebe Frentzel of Harland, Wisconsin. The roster also includes sophomore guard Gabby Johnson of Freedom, Wisconsin; 6'2 sophomore post Audrey Hatfield of Hudson, and 6'3 freshman post Natalie Greenwood of Roanoke, Texas.
Also added to the program are two new coaches. Joining holdovers Brian Silk and Teonna Jewell are assistant coach Garrett Solis, who served as a special assistant to Coach Lindsey Whalen at the University of Minnesota, and former University of South Dakota standout Madison McKeever, who joined the staff from D2 Concordia-St. Paul and is the Director of Basketball Operations.
The Tommies had a lead in the second half on Monday but faltered at the end despite Hill's 14 points, 4 rebounds, 4 assists and two steals and a 9-point, 9-rebound performance by Lamker. It was the 22 turnovers that really hurt. "I think we had a good start and controlled the game," Hill said, "but we just kind of slipped up in the fourth quarter and got a little too casual." Langbehn agreed: "We need to fight a little harder," she said.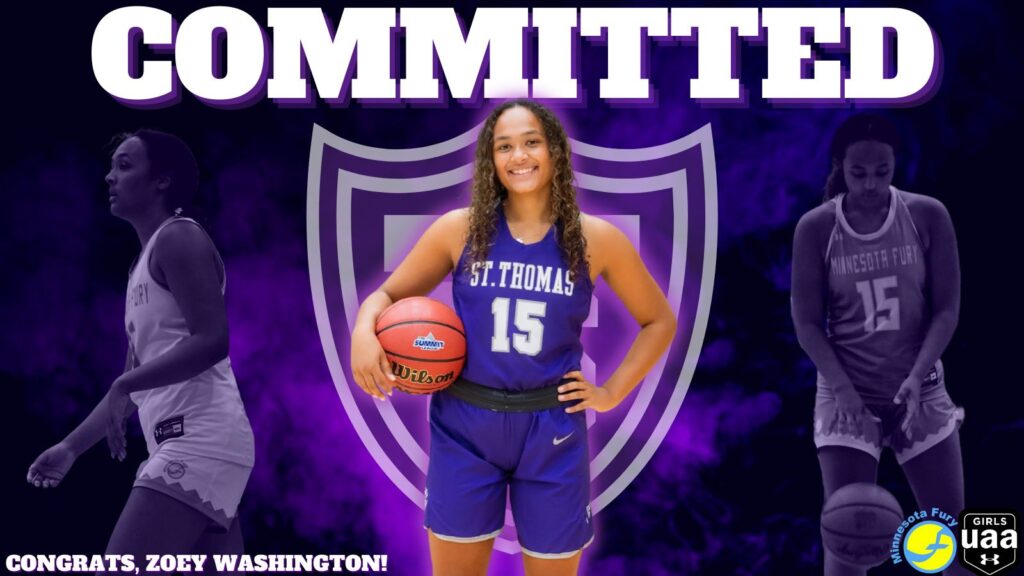 Reinforcements are on the way
While things are definitely looking up for St. Thomas in year 2, it is the caliber of the prospects who have signed on for the future that is really impressive. Among the Minnesota players set to join the team are guard Zoey Washington
Zoey Washington 5'9" | CG St. Croix Lutheran | 2023 State MN from St. Croix Lutheran, a Top 25 prospect in the Class of 2023 Prep Girls Hoops rankings, 2024 #6 Laura Hauge
Laura Hauge 5'9" | SG St. Croix Lutheran | 2024 State MN of St. Croix Lutheran and 2024 #12 Savanah Gardner
Savanah Gardner 6'1" | SF Eastview | 2024 State MN of Eastview. There are a number of players in the 2024 and 2025 classes who are seriously considering the Tommies.
"There are way more recruits coming in all the time than there were last year," Langbehn said, "but it feels really natural talking with them about St. Thomas. We don't have to fake that there's chemistry among the players or anything like that. We are just being ourselves and they enjoy being here."
"It's really exciting to see," Hill added. "It's good that other people see how well we are developing because we are going to be really good in a couple of years. We are going to be a force. We have taken really big steps and it's only been one year. It's exciting to see that people believe in us and know that we are going to be really good and want to come here and be a part of it.
Both players cited the positive culture in the program, the commitment from the coaching staff to helping the athletes grow as people and players, and the importance of setting high standards for the team. Sinn has built a reputation as a coach who sets the bar high and helps her athletes raise their level of play and maturity in order to live up to those expectations. The new players, and those being wooed for the future, are buying into what the program is all about.
In marketing they use the term 'value proposition' to describe the particular features and benefits that make a product or service especially attractive to customers. At a university known for its business school it's only fitting that Coach Sinn would use the same terminology. "The value proposition for a St. Thomas women's basketball player and a St. Thomas education is really high," she said. "We want young ladies who aspire to chase excellence in all of those areas – academically, athletically, in their community as leaders and strong women, and in their faith."
That's what Minnesota has. "We are just fortunate that a lot of our value proposition matches with a lot of student athletes here in the Midwest. We have a deep pool of talent to draw from," she said. "They have a high IQ. They play with passion. They play hard. They defend. They play together. They don't just show up. They aspire to greatness in everything they do. They want to be challenged. They want to be pushed. They want to maximize their potential. As a coach it's kind of fun."
The fun resumes on Saturday night at 7 p.m. when the South Carolina State Bulldogs pay a visit, a team the Tommies beat last season in Orangeburg, SC to record their first victory of the Division 1 era. SCSU finished 4-25 last season and are now under the direction of former Rutgers Associate Head Coach Tim Eatman. Whatever sort of challenge the Bulldogs present, the Tommies expect to be ready. "We have grown a lot and we are ready to attack every game with a winning mentality," Hill said. "Now we have that experience."