DMV POWER RANKINGS 2020-21 WEEK 1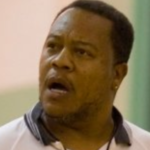 Prep Girls Hoops Maryland high school team rankings are brought to you in honor of the late James Nichols.  James had been involved with girls grassroots basketball for over 20 years as the director of Team Unique and The Real Basketball Report.  James had also been a contributor with Next Sport Phenom and it's message board as the IH ranking DMV HS Basketball for the past 10 years. James had a "unique" style that provided information and entertainment.  He will be missed.
Good news on the horizon as we enter 2021, we have promising vaccine's available for Covid-19 and it looks like dispite delays and cancellations "we will have a season", at least to a certain extent.  The WCAC unveiled it's model for the season with a boys scrimmage that included masks and spacing on the bench, ball sanitation and switching out and no fans.  Streaming and Zoom may be the norm for the season.  Teams that have restrictions are looking to still play at offsite locations under name not associated with the school.  Media will have to find out scheduling via word of mouth as schedules aren't publically available.  We encourage schedules, links and result to be emailed to us at nextsportsphenom@gmail.com subject Prep Girls Hoops.  We will do our best to follow teams and players this season via all outlets available.

Week 1 Rankings:
| RANK | SCHOOL | CITY/STATE | PREVIOUS RANK |
| --- | --- | --- | --- |
| 1 | NEW HOPE ACADEMY | LANDOVER HILLS, MD | |
| 2 | BISHOP MCNAMARA | FORESTVILLE, MD | |
| 3 | SIDWELL FRIENDS | WASHINGTON, DC | |
| 4 | ST. JOHN'S COLLEGE | WASHINGTON, DC | |
| 5 | MCDONOGH SCHOOL | OWINGS MILLS, MD | |
| 6 | PRINCESS ANNE | VIRGINIA BEACH, VA | |
| 7 | ST. FRANCES ACADEMY | BALTIMORE, MD | |
| 8 | PAUL VI | FAIRFAX, VA | |
| 9 | EMERGE CHRISTIAN ACADEMY | LANHAM, MD | |
| 10 | ELIZABETH SETON | BLADENSBURG, MD | |
| 11 | MARET | WASHINGTON, DC | |
| 12 | ST. VINCIENT PALLOTTI | LAUREL, MD | |
| 13 | BISHOP O'CONNELL | ARLINGTON, VA | |
| 14 | JAMES MADISON | VIENNA, VA | |
| 15 | LAKE TAYLOR | NORFOLK, VA | |
| 16 | BISHOP IRETON | ALEXANDRIA, VA | |
| 17 | NATIONAL CHRISTIAN ACADEMY | OXON HILL, MD | |
| 18 | NORTH POINT | WALDORF, MD | |
| 19 | ROLAND PARK COUNTRY DAY | BALTIMORE, MD | |
| 20 | WESTERN | BALTIMORE, MD | |
| 21 | TPLS CHRISTIAN ACADEMY | MIDLOTHIAN, VA | |
| 22 | CHARLES COLGAN | DUMFRIES, VA | |
| 23 | URBANA | IJAMSVILLE, MD | |
| 24 | PIKESVILLE | PIKESVILLE, MD | |
| 25 | ST. JAMES SCHOOL | HAGERSTOWN, MD | |
| 26 | OLD MILL | MILLERSVILLE, MD | |
| 27 | WINSTON CHURCHILL | POTOMAC, MD | |
| 28 | CLARKSBURG | CLARKSBURG, MD | |
| 29 | MENCHVILLE | NEWPORT NEWS, VA | |
| 30 | GOOD COUNSEL | OLNEY, MD | |
| 31 | HIGHLAND SPRINGS | HIGHLAND SPRINGS, VA | |
| 32 | HENRICO | RICHMOND, VA | |
| 33 | MONACAN | RICHMOND, VA | |
| 34 | SHERWOOD | SANDY SPRINGS, MD | |
| 35 | TRINITY EPISCOPAL | RICHMOND, VA | |
| 36 | PAUL LAWRENCE DUNBAR | WASHINGTON, DC | |
| 37 | MARSHALL | FALLS CHURCH, VA | |
| 38 | KEMPSVILLE | VIRGINIA BEACH, VA | |
| 39 | NORVIEW | NORFOLK, VA | |
| 40 | FREDERICK | FREDERICK, MD | |
| 41 | HAMPTON | HAMPTON, VA | |
| 42 | MIDDLETOWN | MIDDLETOWN, MD | |
| 43 | THE BULLIS SCHOOL | POTOMAC, MD | |
| 44 | CHESAPEAKE (BC) | BALTIMORE, MD | |
| 45 | CMIT-NORTH | LAUREL, MD | |
| 46 | ELEANOR ROOSEVELT | GREENBELT, MD | |
| 47 | BALTIMORE POLYTECHNIC | BALTIMORE, MD | |
| 48 | CHARLES H. FLOWERS | SPRINGDALE, MD | |
| 49 | LANGLEY | MCLEAN, VA | |
| 50 | YORKTOWN | ARLINGTON, VA | |