It can be rough at a showcase event getting placed on a weak roster where it's difficult to find teammates you can work with to illustrate your own capabilities. It can be just as much of a challenge landing on a loaded roster where it might be hard to get touches. That was the situation Ellie Panner (top photo) found herself in on Friday night at the Fall Exclusive. She turned a challenge into an opportunity, however, and absolutely made the most of it. Ellie leads the way today as we look at the standout newcomers of week 2 at Bloomington Kennedy.
Ellie Panner – 2028 guard, Minnetonka
The Red team, led by the one-two punch of Bethany Black Lance and Chloe Reedy, was impressive during week 1. When budding star Chloe Johnson
Chloe Johnson 5'9" | PG Duluth Marshall | 2028 MN of Duluth Marshall showed up on their roster for week 2 it was obvious this team would be a force. Instead of being intimidated by Johnson's presence, however, Ellie took the opportunity to show that she, too, could be a standout. From start to finish in the opening game on Friday Panner was an impact player. She is very athletic, with a quick first step and speed in the open court. It is her explosiveness that really caught our attention as she bust through the lane early in the game to blow past two defenders and elevate to score at the rim. It was a big-time play! Panner has great length which she used to utmost advantage to be a disruptive defender. At one point she caught up to the ball handler who was at maximum MPH in the open court, leaped in in the air and got a hand on the ball to break up the play. You can't teach that kind of explosiveness. This was our first look at Panner, and it won't be our last. She promises to be a factor in the Class of 2028.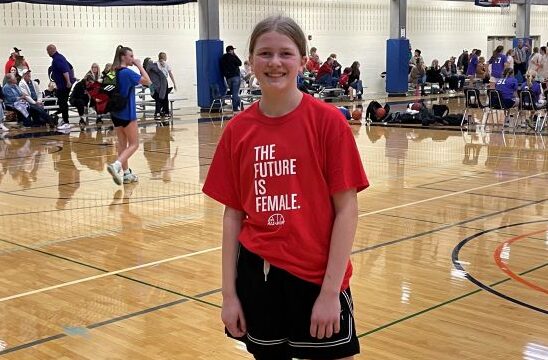 Peyton Walker – 2027 guard, Proctor
Ironically Panner wasn't the only one on Team Red who had a good night. Macy Castle was a double digit scorer in game one and big Paige Norman made her presence felt, as well. So did Walker, who was enjoying her share of the Friday night lights. This wasn't our first look at Peyton. We saw her a few weeks back on our trip to Duluth for a Starks Academy workout. She is a fiery guard who plays the game with passion, intensity and a strong competitive streak. Walker is here, there and everywhere on the court – diving for loose balls, attempting to poke the ball out of an opponent's possession, getting a finger on it in the passing lanes. That's the kind of stuff that will get you noticed at a showcase event, even when you are part of a loaded roster, even when there are other more gifted prospects on hand. Peyton also showed some skill on Friday, handling the ball in traffic and weaving her way deftly through a maze of defenders. Proctor is a blue collar railway town just west of Duluth with a long history of churning out hard hat athletes who play with an edge. You can now add Peyton to that list.
Here are three more newcomers of note who have made their presence felt at the Fall Exclusive presented by Jr All Star.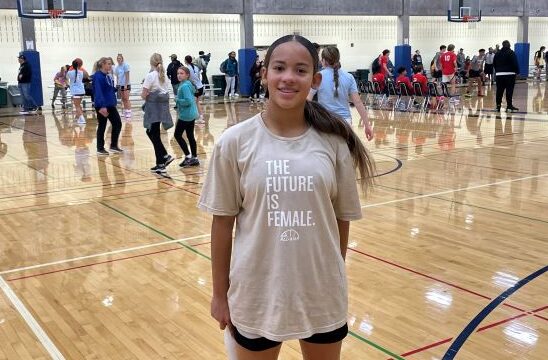 Josie Francois – 2027 guard, Richfield
We have seen Josie at the Breakdown Fall League a couple of times with Richfield and now on back-to-back Fridays at the Fall Exclusive. Let's just say we like her a little bit more each time. Francois isn't particularly tall but she has a big frame and is physically strong for an 8th grader. She's also very crafty, with the ability to get by opponents either by thinking her way through the challenges or physically outmaneuvering them. She's got nice handles, a soft touch around the rim and she creates a ton of opportunities off the bounce. Josie is not at all afraid to enter the highly trafficked areas near the basket, and she knows how to overpower defenders even if they are taller and longer. We are intrigued and will be watching more in the months ahead.
Kaidyn Roisum – 2027 wing/forward, St. Michael-Albertville
Multi-dimensional players who can handle the business at hand on both sides of the ball are a commodity that is in demand. From what we've seen so far it looks like Roisum, a 5-foot-8-inch 8th grader, fills the bill. First and foremost she is a competitor, an athlete who plays physical and is going to fight for each possession, defend with passion and make the most of her opportunities on offense. She can knock down shots from beyond the arc. She can also score off the bounce as we've seen her elude defenders to get to the basket and finish in a variety of ways. Roisum pressures ball handlers well and tends to get stops and force turnovers. There's a lot to like abut Kaidyn's game and she's just getting started.
Anna Smelser – 2027 guard, Robbinsdale Armstrong
Given that she has been getting both JV and varsity minutes at Fall League, Anna looks ready to play a contributing role at the high school level this season. At 5'7 she has enough size for the task at hand. She plays physical and is a walking hustle stat. Anna is a 'glue' type of player who does a ton of little things well and has quality intangibles. Defensively she is very involved, understands help, and is pretty vocal for a young player. Offensively she's not going to wow you, but Smelser executes well and does the right stuff away from the ball. Her shooting mechanics have improved and the results are getting better both from mid-range and long distance. She can also attack off the bounce and finishes pretty consistently.