Now let's see which prospects cracked the top 20 of my favorite players from Select Events Select 40 Session II. Below are #20 through #11.  #20 Photo: Meredith Ryan Lola Lampley| Legends U|6'2''|SF|'26 I walked over to watch Legends…
Now let's see which prospects cracked the top 20 of my favorite players from Select Events Select 40 Session II. Below are #20 through #11. 
#20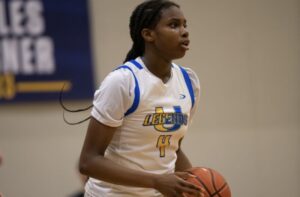 Lola Lampley| Legends U|6'2''|SF|'26
I walked over to watch Legends U and saw the 6'2'' Lampley sprint the floor, catch a pass in stride and bury a three, and I immediately had to look her up. I was floored that she was a rising freshman because her game was more mature than her age. Her confidence in shooting and handling the ball is impressive. You never see kids that young comfortable to that degree driving through traffic and playing through contact the way Lampley was. Lampley is another versatile combo forward I saw who can be very effective inside and outside. 
#19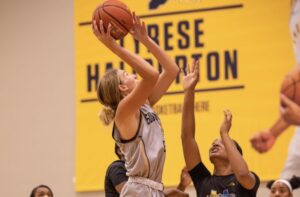 Landry Allen
Landry Allen 6'3" | C Tuttle | 2023 State OK |Southwest Elite|6'3''|PF|'23
Allen has the imposing size but also elite hand-eye coordination to go with it. She catches everything thrown her way and can make tough grabs in traffic. Everything she does is smooth and fluid. From her jump shot to her post work, Allen showed how polished her game was against elite players at her position. She keeps the ball high when securing rebounds and is a good rim protector. 
#18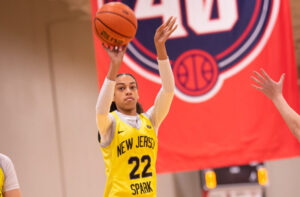 Kennedy Henry
Kennedy Henry 6'1" | CG Blair | 2025 State NJ |NJ Sparks|6'0''|SG|'25
Henry is unique because she is a 2 guard; but you can play her at the 4, and she will give you high-level production. You cannot say that about many wings, but that separates Henry from the rest. She can play in the high post, be a dynamic playmaker, and set up her teammates for easy scoring opportunities. Henry is a solid post player who can play with her back to the basket or face up. She also is an excellent spot-up shooter from the outside. Henry can beat you in numerous ways in the halfcourt. 
#17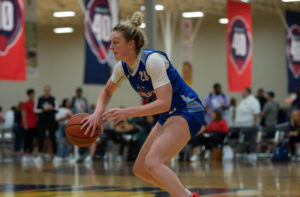 Aislinn Gibson
Aislinn Gibson 6'2" | SF Tilton | 2023 State NewE |MCW|6'2''|SF|'23
Gibson checked into the game against Northwest Select and played the best basketball I've seen her play. She was unconscious from three and opened up the floor with her jumper. She sprinted the floor nonstop and was a significant piece to MCW forcing turnovers in transition. As usual, Gibson brought the intensity on both sides of the ball and out-hustled everyone on the court. Gibson is the type of player who can go scoreless and be one of the game's most impactful players because of her dedication to defend and rebound. 
#16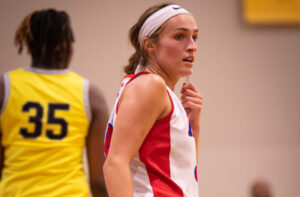 Amelia Rogers
Amelia Rogers 5'7" | PG Lakeside | 2024 State AR |HLBA|5'7''|PG|'24
Rogers is tough as nails, and I thought she was one of the best rebounding point guards. She wasn't afraid to battle on the glass and elevate over her opponent to secure the possession. Rogers is also an excellent shot maker and has the shooting confidence to bury jumpers when heavily contested. She used her athleticism and tight handle well to create space and made good decisions when she got to the second level.  
#15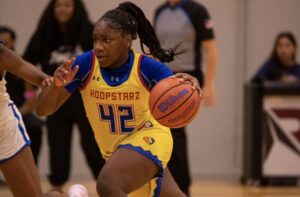 Christina Collins
Christina Collins 5'7" | CG Lakeview-Fort Oglethorpe | 2023 State GA |FBC Hoopstarz|5'8''|PG|'23
Collins was one of the best scorers and slashers I saw and was unguardable, penetrating the basket. Her upper body strength helped Collins absorb contact and punishment when slashing, and she powered through defenders to score. Collins has good body control, is balanced, and is an aggressive finisher.
#14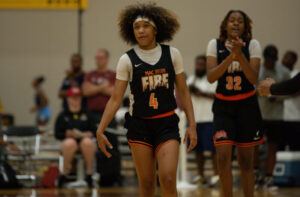 Aaliyah Guyton
Aaliyah Guyton 5'6" | PG Peoria | 2024 State IL |Mac Irvin Fire|5'7''|PG|'24
I don't think anyone was faster than Guyton going coast-to-coast with the basketball. Once she got a head of steam in the open court, she blew by everyone and scored in seconds. Guyton is a high-impact, two-way player who uses that same speed and quickness on offense to be a fierce on-ball defender. Guyton's first step is lightning quick, and she explodes to the hoop using a mix of head fakes, change of speed, and direction to get whatever she wants on the court. 
#13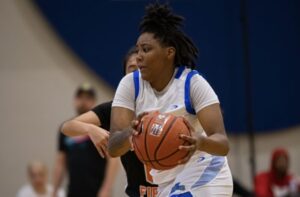 Mari Bickley
Mari Bickley 5'10" | PG Shaker Heights Laurel | 2023 State #20 Nation OH |Legends U|5'11''|PG|'23
Bickley had the most impressive mid-range package of anyone. It was refreshing to see someone use the in-between game as much as Bickley did, who patiently got into the second level and hit jumper after jumper. I liked Bickley's demeanor and approach to the game. She just competes hard, puts her head down, plows through defenders, and gets whatever she wants. Bickley's footwork is also elite. When she gets into the paint, she keeps the defense off-balanced with her use of fakes and pivots. 
#12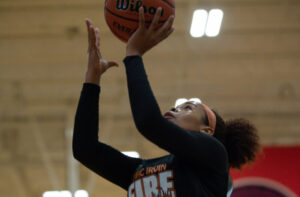 Xamiya Walton
Xamiya Walton 5'7" | CG Butler College Prep | 2024 State IL |Mac Irvin Fire|5'7''|PG|'24
Walton proved that she was one of the best shooters at the Pacers Athletic Center with a barrage of long-range jump shots that ripped the net clean. What was most impressive about Walton's three-point onslaught was her shot-making late in the game. One of the hardest things to do as a shooter is to be highly efficient at the end when most fatigued, and that's when Walton was at her best. She hit clutch basket after clutch basket and did so with the same form, lift and confidence and closed out the game against the NJ Sparks in victory. 
#11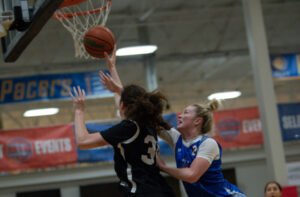 Ava Heiden
Ava Heiden 6'4" | C Sherwood | 2024 OR |Northwest Select|6'4''|PF|'24
Heiden's size is very intimidating but what makes her scarier is that she is springy with a solid vertical. Her motor and toughness for a big are off the charts, and she will outwork anyone on the court. She has sound footwork in the post and is smooth with her back to the basket. Heiden shows you her soft touch on her post fall away and drop step. She is too big and strong around the basket and skilled with either hand, causing major matchup problems for the opposing team.