The following players have been hard at work in the gym developing their game. They have already made noticeable progress this summer and fall and are ready to put some folks on notice. Keep an eye on these ladies this…
The following players have been hard at work in the gym developing their game. They have already made noticeable progress this summer and fall and are ready to put some folks on notice. Keep an eye on these ladies this school year as they are all capable of putting up some impressive numbers and will be key for their teams success this season.
Ava will carry a larger role this year after the loss of key players who have graduated. She will be expected to be a secondary scoring option opposite Erin Woodson
Erin Woodson 5'11″ | SG Saint Gertrude HS | 2023 State VA as well as increased ball handling responsibility. A year older and having spent the summer playing on the S40 circuit she will be ready for a big year. Last year she showed her 3pt shooting ability, this year she has added crafty finishes and a midrange to her scoring arsenal.
Madilyn had a strong showing in fall league, caught the attention of several folks. She is a long athlete, standing 5'10 and can play any perimeter position. Capable ball handler, rebounds well and pushes ahead in transition. Unselfish player who reads the floor well, looks and passes ahead.  She makes crisp one handed passes off the bounce with either hand leading to high percentage shots. She moves well without ball increasing her scoring opportunities, puts ball on floor and gets to the rim. Has a ton of potential, look forward to following her throughout the season.
5'6" | PG | 2024
John Marshall | Team Loaded
Janiyaha is a confident point guard with that dog mentality. She is aggressive attacking the basket and very comfortable with the ball in her hands with the game on the line. She isn't afraid of contact and draws a lot fouls with her ability to beat defenders one-on-one and get into the paint. She can knock down jumpers consistently. Last year she averaged 13ppg, 6rpg, 5apg. She will be the engine to a talented John Marshall team looking to make a deep run in states this year.
5'5" | PG | 2024
Steward | Hoops Academy
Tori is the quintessential point guard, great compliment to her teammate Sanai Green
Sanai Green 6'0″ | SF Steward School | 2026 State VA .  She will always be one of if not the quickest player on the court. She uses her speed to get into the heart of the defense where she finds open teammates with creative passes. A pass first point guard who scores when needed, she has can shoot the 3 off a set play or creating her own shot.  She is dangerous in transition as she is very difficult to contain when attacking downhill.
Transferring to Catholic High School this season, Jemma is the perfect compliment to the talented guards known for their deep shooting.  Jemma brings a strong inside presence, physicality and rebounding to go along with her ability to knock down the 3.  She can put the ball on the floor from the wing/high post area and finishes with either hand.  She competes through contact, utilizing her body to get good post position offensively and for rebounds.
5'8" | SG | 2023
Stab | Team Loaded
Still available guard in the class of 2023, Sabrina is a 3pt shooter with deep range.  She has always had good court vision, skilled passer and been a strong rebounder; her ball handling and defense have improved.  Often tasked this summer with guarding opposing teams best players, she has gotten quicker and her on ball pressure created plenty of extra possessions for her team.  She is a true shooting guard, capable of putting up big numbers.  She is a three level scorer with a nice array of moves and crafty finishing to go along with her smooth jumper.
Don't be late to the party on this stud.  She has the physical package, strong body with athleticism to go along with high IQ and skill set to match.  Sasha runs the point, but is equally effective off the ball.  She has a knack for scoring, can shoot and gets to the rack at will.  Sasha's game is mature, she is confident leading her team and welcomes the attention of opposing defenses.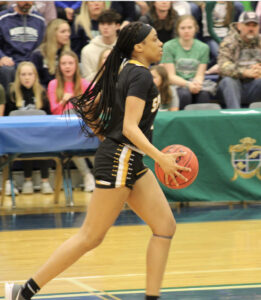 Although a junior, this will be her second season of high school basketball due to COVID cancelling her freshman year.  Morgan had a strong sophomore year, over the summer she continued to get better and is well prepared for a big year.  She is long, lean, athletic and dangerous in transition.  She snakes her way through defenses and her ability to draw fouls in the paint gets her to the line frequently.  She has the physical attributes to be an elite defender.  She is best when attacking the basket, but an improved outside shot will make her a challenge to guard this year.